Actualités • Corporate social responsibility • Members
Y. K. Almoayyed & Sons goes green with solar power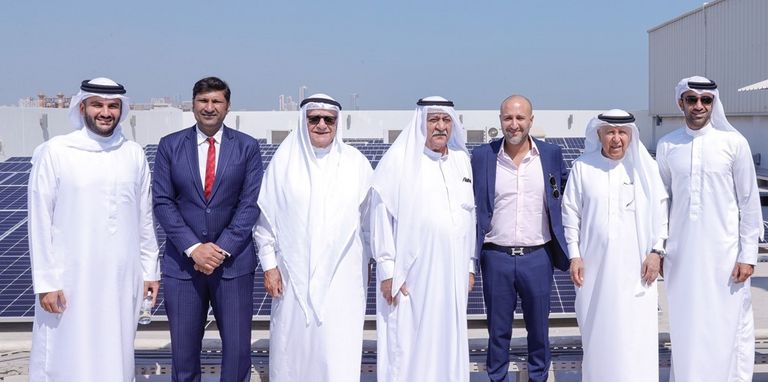 Y. K. Almoayyed & Sons is one of the leading diversified business groups in the Kingdom of Bahrain. Since its establishment in 1940, the group has not only witnessed massive growth with a presence in major sectors such as automotive, heavy equipment, electronics, and building systems, among others, but it has made significant strides in the realm of Environmental, Social, and Governance (ESG) initiatives in the recent past. At the core of its sustainability efforts is a robust strategy centred around investing in solar projects. This strategic move not only aligns with the global shift towards clean energy but also underscores the organization's commitment to mitigating environmental impact while fostering long-term financial resilience.
Over the past two years, Y. K. Almoayyed & Sons has demonstrated a steadfast commitment to renewable energy by channelling substantial resources into solar projects. By leveraging cutting-edge technology and forging strategic partnerships, the organisation has successfully implemented solar installations across various facilities and operational sites. This proactive approach not only reduces the carbon footprint but also contributes to the global transition to sustainable energy sources.
In July 2021, Y. K. Almoayyed & Sons inaugurated its maiden solar power project on the rooftop of its Infiniti and Renault showroom in Sitra. The project generates 548 MWh annually and has the distinction of being the first solar-powered car showroom in the Kingdom of Bahrain.
The organization's second solar project was inaugurated in September 2022 at its Heavy Equipment Service Center in Sitra Industrial Area. The project generates 1,153 MWh annually and meets more than 100% of the service center's power requirement, making it a 'net-zero' facility.
Before the end of 2023, Y. K. Almoayyed & Sons will commission two more solar power projects - at Nissan Service Centre in Sitra – Generating 1,249 MWh per annum, and at Ford Showroom in Sitra – Generating 790 MWh per annum. This would enable 43% of the organisation's total power requirements to be met by solar power.
The solar investments have yielded tangible environmental benefits, significantly reducing greenhouse gas emissions and reliance on conventional energy sources. By embracing solar power, Y. K. Almoayyed & Sons has not only diminished its ecological footprint but has also become a beacon of sustainable practices within its industry.
Y. K. Almoayyed & Sons was recently awarded by HSBC – Living Business as the Best ESG Project in Bahrain for implementing the Solar Power Project at the Heavy Equipment Service Centre in Sitra. The award was presented by Mr. Chris Russell, CEO of HSBC Bahrain to Mr. Farouk Almoayyed, Chairman of YKA.
Looking ahead, Y. K. Almoayyed & Sons has set an ambitious goal to achieve net-zero carbon emissions by 2025. This involves a multifaceted approach, encompassing energy efficiency measures, continued investment in renewable energy sources, and the integration of innovative technologies to enhance sustainability across its operations.
The organisation's commitment to ESG principles extends beyond environmental considerations. Y. K. Almoayyed & Sons recognises the importance of social responsibility and good governance. It stands as a testament to the transformative power of ESG strategies, showcasing how a deliberate focus on solar investments can drive environmental sustainability, social responsibility, and long-term economic resilience. As the organisation continues to progress towards its net-zero commitment, it sets a compelling example for others in the industry to follow, proving that profitability and sustainability can indeed go hand in hand.