Event reportConference & SeminarNetworkingEvènements
Conference & Networking Dinner with CEO of Gulf Air Mr. Krešimir Kučko, 27.03.2018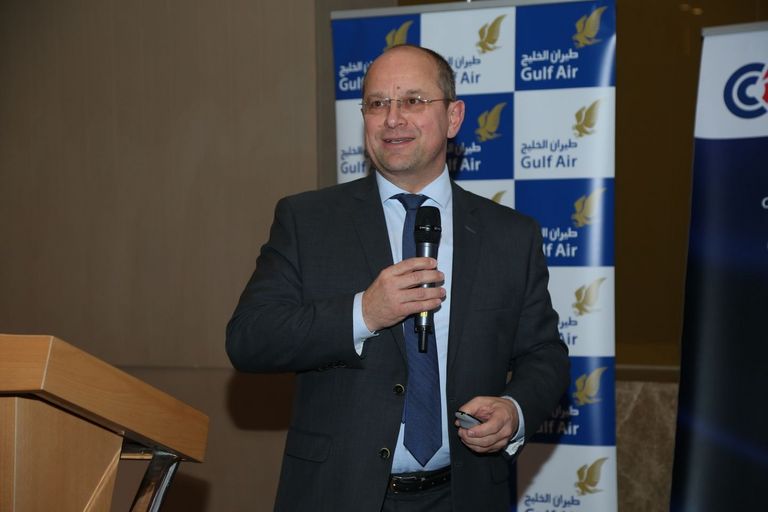 The French Chamber of Commerce and Industry in Bahrain, FCCIB, organized a conference and networking dinner event on Tuesday 27th March to discuss recent positive developments made by the Kingdom of Bahrain's national carrier, Gulf Air. Entitled 'the Gulf Air Journey: 2018 and beyond' the event took place at Downtown Rotana Hotel, Manama. and was sponsored by BNP Paribas, Installux Gulf and BMMI.

The Guest Speaker for this conference and networking dinner was Gulf Air's Chief Executive Officer and FCCIB member, Mr. Krešimir Kučko. Mr. Kučko joined Gulf Air as CEO in 2017, bringing with him a wealth of international aviation experience. He previously served as Croatia Airlines President and Chief Executive Officer. He has held noteworthy roles in the airline industry for the past 25 years.

Mr. Krešimir Kučko, introduced by Mr. Jean-Christophe Durand, President of FCCIB made an insightful presentation highlighting the new routes that will be served by Gulf Air in 2018 and beyond. He discussed the national carrier's goal to become the regional airline of choice, to connect the Kingdom of Bahrain to the rest of the world and promote the country globally as a touristic destination and drive Bahrain's economic growth.

The event was attended by more than 60 VIPS, members and guests.

Click here to see all the pictures of the event