Events • Partners
World Environment Day | Green Talk at AFB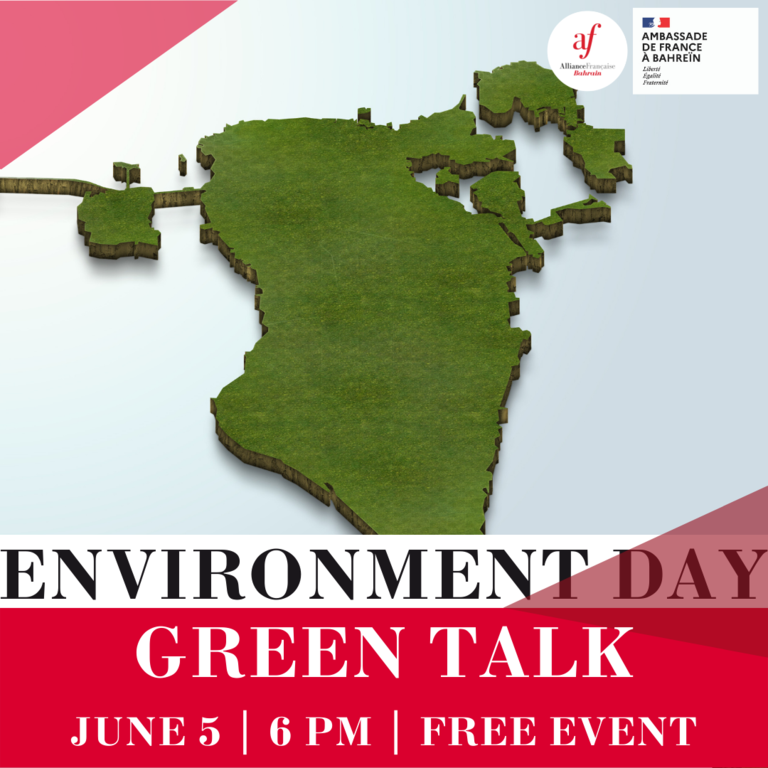 June 5 is World Environment Day and an opportunity to share stories, best practices and tips for promoting sustainable development.
The three guests speakers, Andrea Pucciarelli (Manager of Roots & Shoots Organic Farm), Etaf Chehade (Environmental Consultant) and Aysha Mattar (Personal Stylist) will present their environmental journey during an evening organized by the Alliance Française and the French Embassy.

About Andrea:
Andrea was born in Pisa Italy, and moved to America at the age of 5 where her passion for animals and nature began. As a young teenager she moved to the Middle East. Her college years were dedicated to follow her passion and studied equine management. Back to Bahrain Andrea worked at various stables as well as for the Royal Family. Her mother, Chef Susy Massetti founded an organic, no-till and regenerative farm, Roots & Shoots . Andrea quit her job to step into the management role of the farm, and now runs it full time. A team of 6 full time staff as well as other family members help the day to day operations. The farm was opened in 1st August 2020 as a CSA (Community Supported Agriculture) and has enjoyed a rewarding success while growing to sustain Chef Susy Massetti' s restaurants and is supported by over 60 members.

About Etaf:

Etaf is an environmental professional with over 15 years' experience primarily engaged in designing, implementing, and evaluating environmentally related projects and initiatives such as environmental governance, sustainable development planning, environmental management, environmental education, and corporate responsibility. She has created innovative solutions for over 15 years to develop projects and initiatives that are aligned with nation and UN Sustainable Development Goals to promote environmental conservation and management and building the capacity of organizations and individuals in the region.

Etaf has first-hand knowledge in policy and programme development having worked in the public, private and intergovernmental sector. She currently supports the Food and Agriculture Organization at the UN and until recently, Etaf was the Regional Coordinator at the regional United Nations Environment Programme Office focusing on biodiversity and ecosystem related issues in the region. In addition to the UNEP, she also has experience consulting private and public sector organizations on environmental policy, environmental education and capacity building. She worked at Atkins Bahrain, a global multidisciplinary engineering firm, undertaking and coordinating the environmental aspect of large-scale development projects and carrying out environmental impact assessments, design and manage environmental management plans.

She currently works independently as an environmental consultant based in Bahrain while also taking care of her two daughters and two cats.

About Aysha:
Bahrain based Aysha Mattar lives many lives. She is a mother, a wife and an environmentalist at heart. Her career in fashion had quite an interesting start in life from interning & working as a fashion stylist, fashion journalist and ran one of the first regional fashion blogs. This has led her to a career in personal styling. Her desire to help women look their best within their comfort zones and matching the high end with the high street is what she does best with vintage and upcycling as the cornerstone to her approach all served up with a delightful dose of positivity.

When? On Sunday, June 5th
At what time? at 6 pm
Where? Alliance Française Bahrain
How much? free event
What language? in English

Alliance Française Bahrain, Ambassade de France au Bahrain and the guests are aware of the Covid situation that's why all precautionary safety measures will be taken during that evening to protect all attendees' health.

If you have any questions, please contact : com(@)afbahrain.org
Click here to register.