Actualités • Companies news
Launching an Artistic Culinary journey - 'Go Bistro by La Table Krug by Y' pops up at The Ritz-Carlton Bahrain this Spring.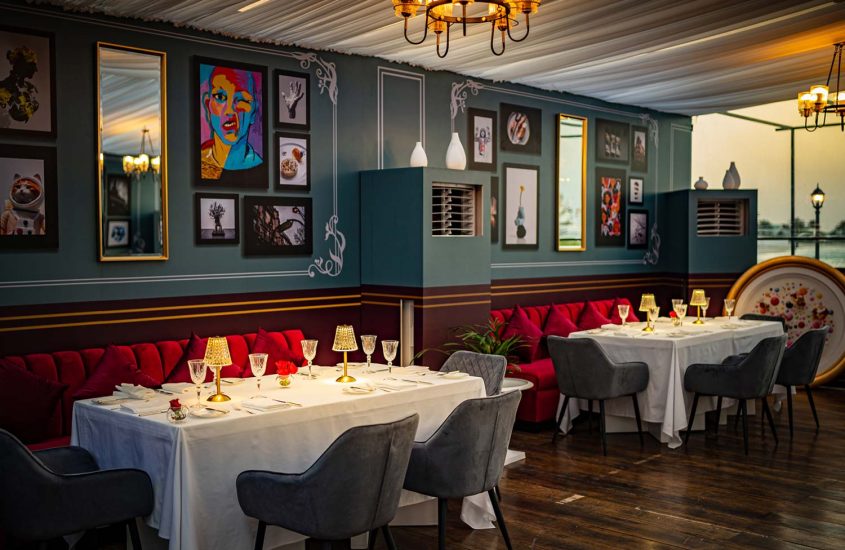 Keeping the intense focus and art conceptualisation, 'Go Bistro by La Table Krug by Y' will allow guests to experience fine dining excellence in a paradisiac location as it takes a summer vacation on the beach.
Offering diners "Cuisine de Maison" – "Comfort Home Cooking" – an exquisite balance will be struck between sophistication, simplicity, and artistic expression.
Manama, Bahrain (May 6, 2023): La Table Krug by Y (LTKBY), located at The Ritz-Carlton Bahrain, is moving to the beach for an exclusive pop-up. Think white sand between your toes, gentle ocean breezes, and an incredible sensory culinary experience that draws inspiration from artistic expression as this exquisite restaurant, led by the talented Yann Bernard Lejard (YBL), relocates for a limited time. Diners will find themselves gripped by a sense of total euphoria as the tantalising dishes, tastefully sculpted to create culinary masterpieces, are served in the most enlivening and awe-inspiring location.
During its tenure at this beachside utopia, the restaurant will serve up "Cuisine de Maison", otherwise known as "Comfort Home Cooking", in a refined contemporary bistro style where gold and burgundy are the main colour, while still leaving space for white touches and driftwood. The food creations on show will encapsulate a delicate balance between sophistication and simplicity, where ordinary food becomes extraordinary, and the simple things are done right. Each ingredient used will be elevated to a point of brilliance and extreme taste, with fusion combinations designed to create symphonies and explosions of flavour.
Starting on May 5, lucky diners can look forward to a truly seasonal version of La Table Krug by Y from a brand that continuously evolves and strives to provide the finest dining experiences that guests can only dream of. Expect dishes with a rich history that are full-of-flavour and texture including the likes of Mussels a la Provençale, a recipe from the chef's early years as a Commis in the French city of Le Grau du Roi in Camargue, eggs "Mimosa", a Sunday staple from his mother, with the simple mi-cuit salmon and cold stuffed zucchini.
Some chef favourites will also be on show such as "The Chicken a La Boss", a roasted chicken stuffed with field mushrooms and Foie-Gras served on a "tartine" of Romanian focaccia bread, warm truffle butter, coloured and crispy potatoes, "The Beef Tenderloin Centre Cut", cooked on charcoal with salt flakes, and Sichuan hazelnut butter, and the "Local Catch Lobster Thermidor" served with spinach leaves, mustard seeds, and arroz saffron.
To finish the meal, guests can enjoy a beautiful cheese assortment explained by the knowledgeable Chef Fromager and moreish desserts like San Sebastian Cheesecake, Tiramisu, Profiteroles Royale and Baba. Complementing the culinary creations will be a range of bold mixologist creations, flavoured sodas and juices, including the sensational "Flower Power" cocktail.
Following the spring campaign, LTKBY will then initiate in a new summer creation season based on a curated audacious combination of Middle Eastern and Asian flavours, highlighting YBL's potential to surprise and delight. Don't miss your chance to awaken all your senses as you embark on the boldest and most revolutionary gourmet dining experience this May.
Go Bistro by La Table Krug by Y will be open from Friday, May 5 to first week of September, except Sundays and Mondays, 5 pm to 11 pm.
For additional information, or to reserve, dial the dining concierge directly at (+973) 1758 6499, or email rc.bahrz.restaurant.reservations(@)ritzcarlton.com. Follow the hotel on Facebook and Instagram @ritzcarltonbahrain / @ltkby and join the La Table Krug by Y dining conversation using #LTKBY.