Members • Partners
Football Live & KENOPSIA : A Liminal Tape Show by Alliance Française Bahrain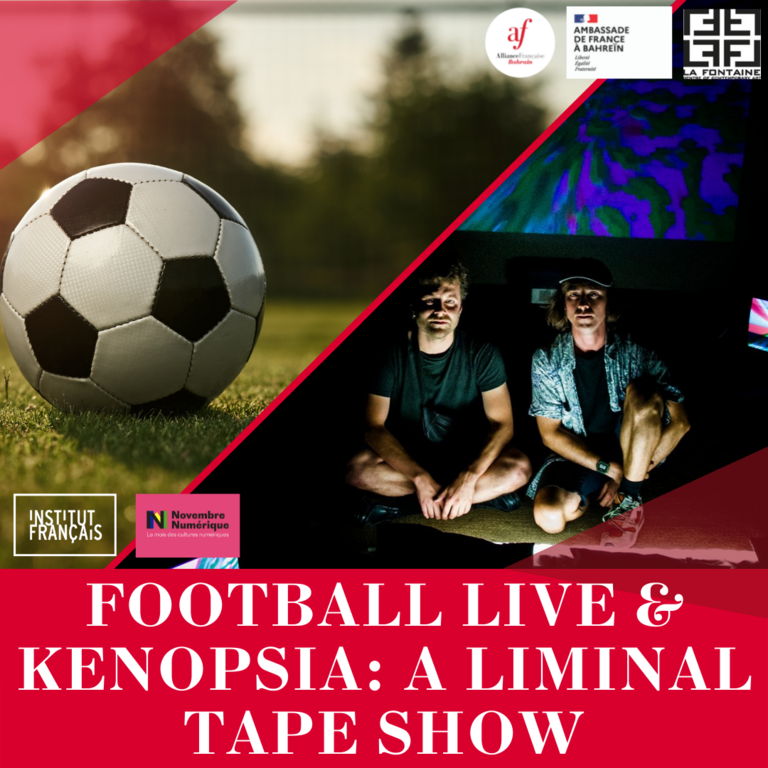 Wednesday 30 November at 6 pm at La Fontaine Centre of Contemporary Art, Manama
As part of Digital November and the world cup, the football game between France and Tunisia will be screened followed by an audio visual performance mixing ambient music by La Houle and videos by Cl0v15.
KENOPSIA (n): the eerie, forlorn atmosphere of a place that's usually bustling with people but is now abandoned and quiet. It is around this neologism taken from John Koenig's "Dictionary of Obscure Sorrow" that the artists La Houle and Clovis Le Pivert will find their inspiration to compose an original audiovisual creation around intermediate and liminal spaces, where emptiness sets in and perceptions become blurred.
Working with audio tapes and VHS, the two artists offer an immersive experience combining analogue and digital technologies, inviting the spectator to dive into a world where the natural and organic gradually gives way to the synthetic and artificial.
About La Houle :
Accustomed to noisy textures in a more pop format, La Houle explores in parallel, through 4-track cassette recorders, an ethereal, ambient, sometimes repetitive, almost salvific music. A first opus, "Dehors au Dedans", inspired by the marine paintings of his grandfather Lionel is available on Onto Record.
About Cl0v15 :
First musician, then graphic designer and video artist, this multi-hatted artist is now experimenting with VJing thanks to an installation composed of 4 video recorders, analogical video mixers and glitch modules.
When? Wednesday 30 November
At what time? at 6pm
Where? La Fontaine Centre of Contemporary Art, Manama
How much? 16 BHD // 14 BHD for Alliance Française and AFBH members
The entrance fee includes a drink (beer or mocktail) and a food basket (choice of burger or nuggets with fries)
What language? The match will be commented in French
How old? Participants must be 21 (or older)
Dress code? Casual dress code recommended
Whatever the result of the match, this is an evening of conviviality, fun and sharing - thank you for behaving in this way towards everyone!
Register HERE.