Events • Partners
Flamenco Soirée at AFB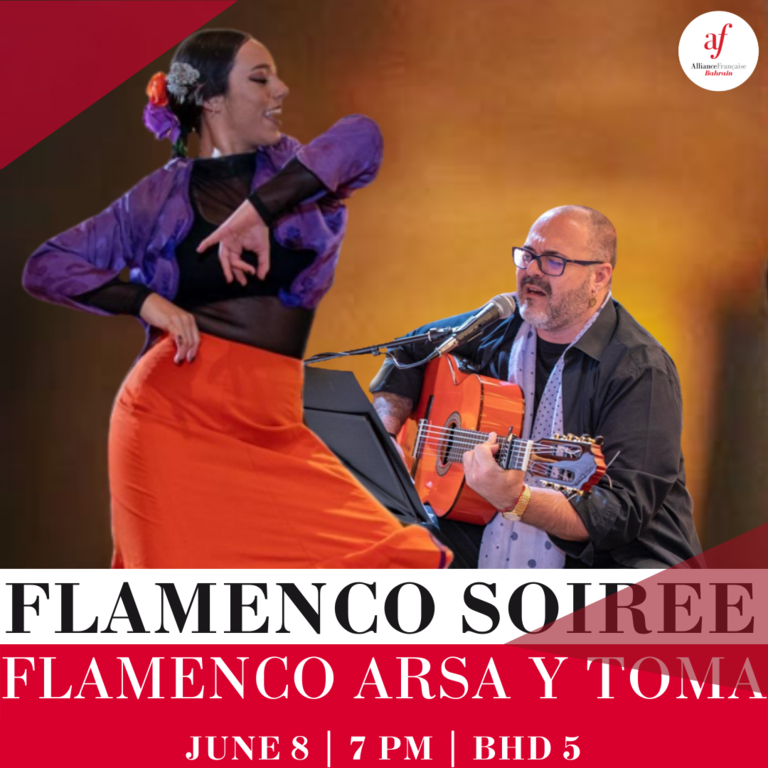 Guitarist Salvi and professional flamenco dancer Yaiza come all the way from Spain to present a flamenco dance show.
About Salvi Zuazo:
Originally from Cadiz, in the south of Spain, and a guitarist since the age of 8, Salvi has participated in concerts, festivals and events all over the world: Spain, Venezuela (3 months), Japan (6 months), Paris, Israel, Morocco, Amsterdam, Kuwait, Dubai (4 years intermittently), Bahrain (6 months). He is also musical director, composer and owner of a production studio.

About Yaiza de los Muros :
From Barcelona, Yaiza is graduated of the Barcelona Professional Conservatory, a scholarship holder of the
Madrid Conservatory of Avila, CIA. Antonio Marquez, CAD. She has practiced her art many times: flamenco dancer at Cia . Mediterraneo, principal dancer at Cia. Iván Góngora, dancer in Cia. Aita, Cia. Jazzenko, Cia. Quindale (Barcelona), La Fura dels Baus (Singapore), HOHENEMS Flamenco Festival (Austria), Cia. Maria Pages (Madrid), dancer in a street tablao (Sevilla), flamenco dancer in Salero (Bahrain).

When? On Wednesday, June 8th
At what time? at 7pm
Where? Alliance Française Bahrain
How much? BHD 5

Alliance Française Bahrain and the artists are aware of the Covid situation that's why all precautionary safety measures will be taken during that evening to protect all attendees' health.

If you have any questions, please contact : com(@)afbahrain.org
Click here to register.