FIXED POWER BILLS! Proposal to charge average amount every month
FIXED monthly utility bills could be introduced in Bahrain to help people manage their spending.
The amount would be an average of the monthly payments for a year by a household.
The urgent proposal has been approved by the Southern Municipal Council and referred to Electricity and Water Affairs Minister Wael Al Mubarak for review.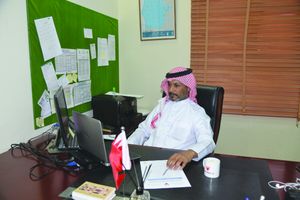 Mr Bubshait
However, councillor Abdulla Bubshait, who presented the proposal, agreed that it should be offered as an option and not forced on people.
"The fixed amount bill will help ensure that people manage their monthly income without affecting their spending obligations," he said.
"For instance, people usually pay BD40 for phone and Internet, BD150 as rent, BD80 monthly for groceries (except during Ramadan), and so on.
"However, in the case of electricity and water, the bills depend on the season; higher in the summer and lower during cooler months.
"Under the new system the payments, which would be calculated on the annual monthly average, would balance out."
Mr Bubshait said electricity and water were vital and cutting off supply of either due to overdue payments would have catastrophic effects.
"Saudi Arabia has just introduced the system and it has shown positive results – there has been a drop in the number of people whose accounts have been suspended or supplies cut off."
Mr Al Ansari
Meanwhile, Parliament services committee chairman Ahmed Al Ansari, who is the council's former chairman, has proposed mentioning more details of consumption in the utility bills.
"The bills currently being sent by email only mentions the units consumed and the corresponding charges," he said.
"People would like to know when is their peak usage. For example, usage could peak between 8am and 9am, during the weekend, at the beginning of the month or at its end.
"Such vital information could help save energy and reduce consumption."
Last month, MPs had called to slash the utility bills for everyone living and conducting business in Bahrain.
They also wanted Bahrainis to get complete cost exemptions during the three peak summer months which witnessed the highest consumption of electricity and water.
They also suggested that people should be given a longer period to pay their utility bills.
The government fully shouldered the utility bills of 380,000 electricity and water accounts for three months, April to June, last year under a BD4.5 billion financial stimulus package to offset the impact of the Covid-19 pandemic.
The exemption was then redirected to Bahrainis in their first household from July to December last year.
A series of rate increases since 2016 has seen the cost of electricity increase to 29 fils per unit, while the water rates are 750 fils per unit.
Bahrainis with one home qualify for a subsidised electricity rate of just 3 fils per unit, but if they exceed 3,000 units in a month the rate increases to 9 fils per unit for additional electricity consumed.
Those exceeding 5,000 units are charged 16 fils for each unit.
It means expats and Bahrainis with more than one property are currently paying 866 per cent more for electricity than Bahrainis in their first household.
The National Action Charter Bloc, led by its president Mohammed Al Sissi, who is also Parliament foreign affairs, defence and national security committee chairman, in July last year presented a proposal to halve the rates. However, the Electricity and Water Affairs Ministry rejected it on the basis that it would cost the government BD40 million, which was not available.
Source: https://www.gdnonline.com/Details/949695/FIXED-POWER-BILLS-Proposal-to-charge-average-amount-every-month