Bahrain Bourse rallies to post solid gains for second month
MANAMA: The Bahrain Bourse (BHB) witnessed a broad-based rally during May 2021, continuing gains for the second consecutive month.
Analysis by Kuwait-based research firm Kamco Invest shows the Bahrain All Share Index closed last month at 1,527.62 points, registering a gain of 2.9 per cent, the biggest monthly gain in six months.
Trading trends for May 2021 showed gains at the start of the month that pushed the index to a gain of 3.6pc by mid-month, but a decline during the second half of the month partially offset earlier gains.

An infographic shows Bahrain Bourse's monthly indicators
The monthly gain supported year to date (YTD) 2021 performance and lifted the benchmark into the green with a gain of 2.5pc.
The sector performance chart showed all the sectoral indices in the green during the month with the industrial index reporting the biggest monthly return of 9.6pc followed by commercial banks and services indices with monthly gains of 2.8pc and 1.7pc, respectively, according to the firm's head of investment strategy and research Junaid Ansari.
Within the industrial index, Alba reported a gain of 9.7pc after the company reported 80.7pc year-on-year (YoY) increase in quarterly net profits during Q1-2021 that reached BD52.2 million.
Revenue
Revenue during the quarter increased by 10pc YoY to BD302.7m in Q1-2021 as compared with BD275.9m in Q1-2020 mainly reflecting 24pc YoY gain in LME prices.
However, a decline in volume by 6pc YoY partially offset the overall revenues during the quarter.
The banking sector showed gains for four out of five banks while shares of Bisb remained flat.
Shares of Al Salam Bank Bahrain gained 4.6pc after reporting a 144pc YoY increase in net profits during Q1-2021 that reached BD6.1m as compared with BD2.5m in Q1-2020.
An increase in net interest income from BD12.6m in Q1-2020 to BD15.2m in Q1-2021 supported the bottom-line partially offset by a decline in non-interest income during the quarter as well as slightly higher loan loss impairments at BD3.8m as compared with BD3.4m in Q1-2020.
Shares of Ahli United Bank also gained 4.4pc during the month despite reporting a YoY decline in net profits during Q1-2021.
The services index gained 1.7pc during May 2021 mainly led by positive performance of shares of telcos further supported by 3.2pc gain in shares of Seef Properties.
Shares of Zain Bahrain were up 5.5pc last month after the telco reported a marginal increase in net profit from BD1.4m in Q1-2020 to BD1.5m in Q1-2021.
The increase came despite flattish revenues at BD16.5m.
The monthly stock performance chart was topped by Inovest with a gain of 25.9pc that came after the company reported a steep decline in losses from $4.6m in Q1-2020 to $74,000 during Q1-2021 backed by slightly higher operating income.
Takaful International was next on the monthly gainers chart with a gain of 22.2pc followed by Khaleeji Commercial Bank and Alba with gains of 11.1pc and 9.7pc, respectively.
The insurer reported an 11pc YoY increase in net profits during Q1-2021.
On the decliners' side, shares of Trafco topped with a drop of 7.4pc after the company reported a decline in revenues from BD10.2m in Q1-2020 to BD9m in Q1-2021.
This affected net profit during Q1-2021 that reached BD0.65m versus BD0.78m during Q1-2020.
Nass was next on the decliners chart with a fall of 2.2pc followed by Bahrain Duty Free Complex and Bank ABC with declines of 1.6pc and 0.3pc, respectively.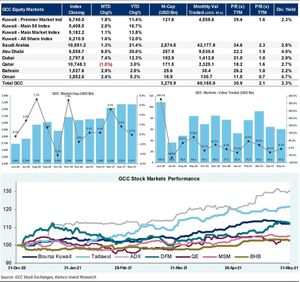 The regional performance was broadly in line with global equity markets
Meanwhile, Qatar's benchmark was the only GCC equity market to report a decline last month. The regional performance was broadly in line with global equity markets with almost all key markets ending the month in the green.
The MSCI GCC Index was up 1.1pc during the month bringing YTD-2021 gains to 19.1pc.
Sectoral performance during the month was largely bullish with only three out of 17 sectors showing declines during the month.
Modest
However, gains during May-2021 were relatively modest, in single digits as compared to last month where a number of sectors reported double-digit gains.
The diversified financials sector topped in May 2021 with a gain of 7.3pc, closely followed by consumer durables and apparel and hotels, restaurants, and leisure indices with monthly gains of 7.2pc and 6.7pc, respectively.
Large-cap sectors like banks, materials and energy showed low-single-digit gains during the month.
The GCC healthcare sector regained the top spot in terms of YTD-2021 performance with a surge of 32pc, followed by transportation and materials benchmarks with gains of 26.8pc and 26.2pc, respectively.
The banking sector index also showed healthy gains of 22.9pc since the start of the year.
Source: https://www.gdnonline.com/Details/946951/Bahrain-Bourse-rallies-to-post-solid-gains-for-second-month