Workplace injuries drop 71.5 per cent
THERE has been a significant drop in workplace injuries in the first quarter of this year, compared with the last quarter of 2020.
According to the latest government data, 248 work-related injuries (including 14 females) were recorded among citizens and expatriates in the public and private sectors in Q1 2021, down 71.5 per cent from 870 (including 120 females) in Q4 2020.
A total of 345 injuries (including 47 females) were recorded in Q1 2020.
Overall, statistics compiled by the Social Insurance Organisation (SIO) for 2016-2020 showed the total number of work-related injuries in both the sectors reached 5,406 – of which 2,977 were among citizens.
The number of workplace injuries documented among Bahrainis and expats in the public and private sectors from 2016 until the first quarter of this year
Meanwhile, the leading cause of injuries in Q1 2021 in the private sector was "slip or fall", with 44 cases recorded including 22 involving expatriates.
This was much lower compared with 110 cases among Bahrainis and expats under the same category in Q4 2020, and 47 cases in Q1 2020.
Other causes of injuries recorded this year in the private sector included collision with moving machinery (16 cases), injured by falling objects (22), falling from height (19), traffic accidents (5), injuries when using hand tools (13), machinery (5) and sharp objects (3).
The Q1 2021 report showed a 1pc increase in the number of expats (423,672) in the private sector contributing to the SIO, despite the numbers falling since 2017.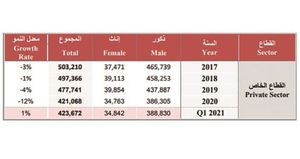 The number of expats registered with SIO over the years
The number of expats, which included females, registered with the government agency witnessed a 12pc drop to 421,068 last year (2020) compared with 477,741 in 2019, 497,366 in 2018 and 503,210 in 2017.
The GDN reported in January that more than 52,000 foreign workers left Bahrain due to the pandemic last year, a majority of them Indians.
According to the latest SIO report, expats in the private sector who received wages of less than BD200 represented 71pc of the SIO contribution or 302,784 individuals in Q1 2021.
Expats aged 60 and above accounted for 2pc, or 8,225 individuals, with an average salary of BD705.
The report also showed that the total number of people registered with the SIO in the first quarter of the year reached 565,506 from both the sectors.
The total number of Bahraini pensioners in both sectors reached 73,061 during the above period, with the average monthly pension registered at BD788.
The number of Bahrainis in GCC countries registered with the SIO reached 1,680 in Saudi Arabia, followed by the UAE (1,088), Qatar (462), Kuwait (323) and Oman (123).
Source: https://www.gdnonline.com/Details/950358/Workplace-injuries-drop-715-per-cent