VIDEO: Food security firm plans are on track
PLANS are on track to set up a government food security company in which local farmers and fishermen are expected to be shareholders.
The company, expected to be operational in the middle of this year, will oversee key agricultural projects, including hydroponics and aquaculture, in Bahrain.
Details of the ambitious plans were revealed yesterday by Works, Municipalities Affairs and Urban Planning Ministry Under-Secretary for Agriculture and Marine Resources Dr Nabeel Abulfateh.
"Food security is important and is regularly followed up by the leadership as we move towards achieving self-sufficiency," he said during a virtual government media briefing organised by the National Communication Centre in co-operation with the ministry.
"His Majesty King Hamad had ordered the setting up of a national company to be an incubator for all future projects and manage them commercially."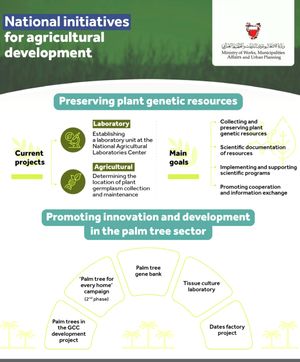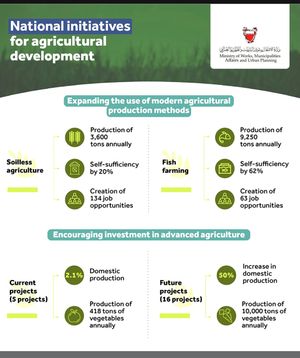 Infographics showing initiatives for agricultural development
Last month, Transportation and Telecommunications Minister Kamal Ahmed, who is politically responsible for Bahrain Mumtalakat Holding Company, told Shura Council members that the country's sovereign wealth fund was set to invest in a number of major projects, including a food security investment company.
In response to a question from the GDN, Dr Abulfateh said yesterday the key issues they faced were lack of interest in the agricultural sector, challenges local producers faced from competitors outside the country and water scarcity.
"Many people migrated from the agricultural sector to other professions that paid well, but now with new technologies you can get good returns from a small piece of land," he said.
In his presentation, he highlighted plots of land identified across Bahrain to be used to boost agricultural production as part of efforts to ensure food security.
He also mentioned several hydroponic and aquaculture projects underway, aimed at increasing the contribution of local production of vegetables from 10 per cent to 20pc and raise the production of local fisheries from 50pc to 62pc.
"To increase the production of vegetables we have sites (Samaheej, Duraz, Sanad, Hoorat A'ali and Al Ghina), and two projects now in the tender process that include BD400 million projects to establish hydroponic farms and 356 greenhouses.
"These projects, covering about 260,000sqm, will help in the production of 3,600 tonnes annually, including tomatoes, chillies, lettuce and other vegetables."
Four sites have been earmarked for fisheries projects at Ras Hayan, East Al Dur, Ras Al Qurain and Ras Al Barr, covering 1,112,00sqm, and is expected to lead to an annual production of 9,250 tonnes of fish such as safi, hammour and sea bream.
"The fish stock is declining due to overfishing and we have taken measures such as putting a ban on trawling to protect existing shrimp stocks and allow them to replenish," said Dr Abulfateh.
He said despite the pandemic regional investors have shown interest in the local agricultural sector.
"A number of investors from Saudi Arabia and the UAE are looking at our facilities to invest in aquaculture; in Ras Hayyan we have 19 plots and several of these are already booked."
Dr Abulfateh said the Global Food Security Index 2019 (GFSI) had ranked Bahrain 50th globally on the list of most food secure nations in the world.
The report, prepared by the Economist Intelligence Unit, highlighted the presence of food safety programmes, and said their funding in Bahrain was higher than the world average.
"Our ambition is to move to the 30th spot by 2025 and 25th by 2030."
Authorities were also looking at agricultural opportunities in the south of the country, and an open plot of land was expected to be allocated by the National Oil and Gas Authority.
"They plan to give us two hectares of open land and we plan to set up a greenhouse. If the pilot project succeeds, we may set up more greenhouses without harming the oil-wells."
Source: https://www.gdnonline.com/Details/943523/VIDEO-Food-security-firm-plans-are-on-track