VIDEO: BD8.8 million for roads
BAHRAIN spends BD8.8 million annually on the maintenance of its highways, it has been revealed.
The country has an estimated 4,000km of road network, said Works, Municipalities Affairs and Urban Planning Minister Essam Khalaf.
It, however, adds up to 8,000 'lane kilometers' – a new concept of measuring roads adopted by countries, he said.
Lane kilometer method involves measuring the length of each new lane that is built instead of counting the overall length of the highway.
According to the minister, Bahrain spends BD1,100 each year to maintain one lane kilometer, which means the total expense is an estimated BD8.8m.
"The length of the road network in Bahrain, which includes those on oil fields as well, is an estimated 4,000km," said Mr Khalaf.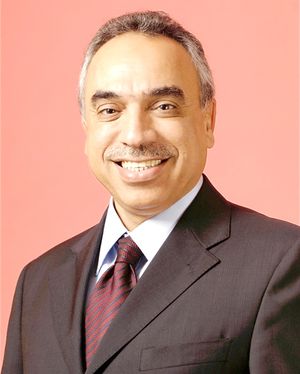 Mr Khalaf
"When we include dual carriage roads and three-lane highways, the network is around 8,000 lane kilometers.
"Maintenance (of roads) is a priority. Safeguarding existing roads is vital as we build new ones."
Mr Khalaf was speaking at a virtual media briefing organised by the National Communication Centre (NCC) yesterday.
Meanwhile, countdown timers and flashing green lights have resulted in a marked decrease in accidents at traffic signals, Mr Khalaf said.
"The system has been successful in reducing accidents. In co-ordination with the Traffic Directorate, plans are underway to extend it to more junctions across the country," he said.
Flashing green signals were introduced on a pilot basis in 2019. The early warning system for motorists was part of plans to reduce accidents and traffic violations.
It was installed initially at two locations – the junction at Wadi Al Sail and the intersection of Al Fateh Highway and Shaikh Daij Avenue in Manama.
The setting alerts drivers to slow down with a flashing green light for a period of three seconds, followed by amber, which will also appear for three seconds, before turning red.
Mr Khalaf highlighted all ongoing and proposed road networking projects in the country, which are part of a 'unified transportation strategy.'
It's in line with the government's efforts to complement the economic and urban growth in Bahrain.
"We aim to raise road safety, ease congestion and streamline traffic," he said. "We also want to keep the roads in prime condition as they are part of our national wealth.
"The unified transportation strategy helps in detecting any predicted increase in traffic movement over the next decade.
"It's flexible and is updated every five to seven years.
"The changes are based on developments across the country – in housing, industrial and other investment projects."
On the highway to progress
The minister briefed on the following road network projects in the country:
Shaikh Khalifa Bin Salman Highway – Phase one (2019-2021): The BD57.55m project will see the highway change from three to five lanes in each direction. It will increase the capacity to 60,000 vehicles per day – up from the present 20,000.
King Hamad Road (2019-2020): The BD21.43m expansion project saw the capacity increase 24pc to 6,500 vehicles per hour, resulting in a 34pc drop in waiting time.
Shaikh Zayed Road Project (2019-2021): The BD23.4m project will raise the road's capacity to 11,000 vehicles per hour.
Budaiya-Janabiya Highway revamp (2022-2024): The peak-hour capacity will increase to 10,500 vehicles per hour after the revamp.
Shaikh Isa Bin Salman Highway (2022-2024): The phase two of the Jasra intersection will see 8,800 vehicles per day in all directions.
Alba-Nuwaidrat intersection (2015-2019): The BD57.55m project increased the capacity by 40pc while reducing waiting time by 36pc.
Roads leading to the new Bahrain International Airport: Witnessed a 45pc increase in capacity and the second phase underway will see another 40pc increase.
Al Fateh Highway revamp (2018-2024): The BD40m project which includes an underpass and overbridge will increase the capacity to 140,000 vehicles per day.
Expansion of the Shaikh Khalifa Bin Salman and Shaikh Isa Bin Salman Highways (2019-2020): The BD21.43m expansion of the highways (Saar intersection) saw a 300pc rise in traffic on the flyover to Isa Town.
Bahrain North Manama Causeway project: The BD126.4m project includes a bridge linking Bahrain Bay with Busaiteen and will extend to Diyar Al Muharraq. The second phase scheduled to be completed in 2024 will see the road traffic surge to 275,000 vehicles per day.
Source: https://www.gdnonline.com/Details/941692/VIDEO-BD88-million-for-roads