Value of MENA Q1 debt issuances nearly tripled during Q1 2023 to $26.9bln
MENA debt issuances nearly tripled in value year-on-year (yoy) during Q1 2023 to $26.9 billion in 2022, according to data from Refinitiv. This is the highest start to a year by proceeds since 2011. For the full year 2022, the total proceeds amounted to $37.3 billion.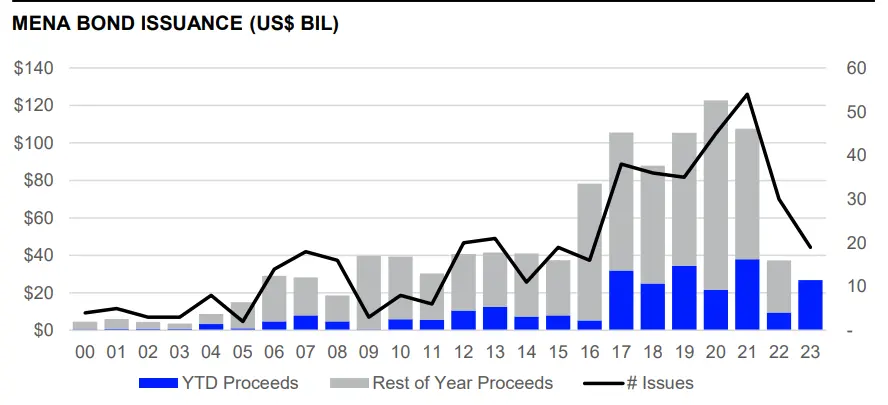 Saudi Arabia was the most active issuer nation during the period, accounting for 67% of total bond proceeds, followed by United Arab Emirates (17%), Morocco (9%) and Egypt (6%).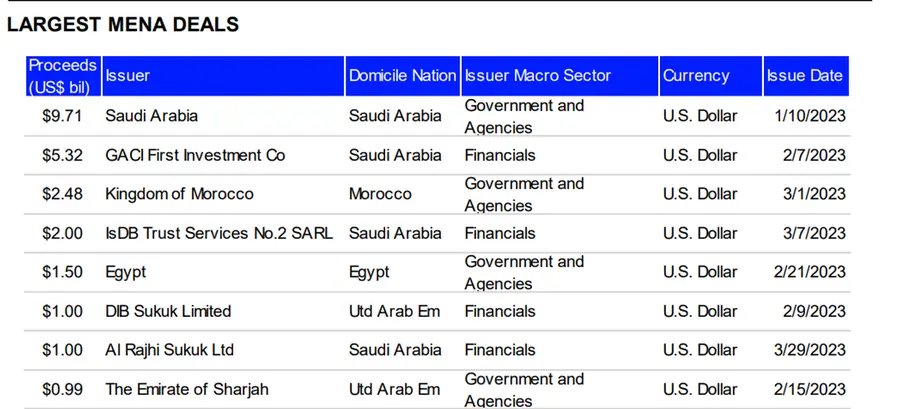 Government and agencies issuers accounted for 55% of proceeds raised during Q1 while financial issuers represented 45% of the market share.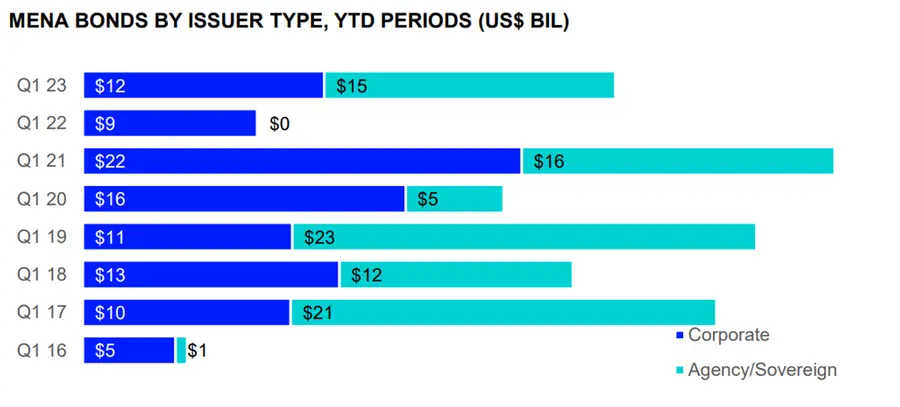 Sukuk or Islamic bonds raised $6.3 billion during the first quarter of 2023, a 57% increase yoy and a three-year high. Sukuk account for 23% of total bond proceeds raised in the
region during Q1 2023, versus 42% during Q1 2022.
Financials accounted for the bulk of sukuk issuances at $4.8 billion while government and agencies issued $1.5 billion worth.
IsDB Trust Services No. 2 SARL, domiciled in Saudi Arabia, was the largest MENA sukuk at $2 billion and was issued by the financial sector. The Egyptian government's $1.50 billion was the next largest, followed by UAE's DIB sukuk of $$1 billion.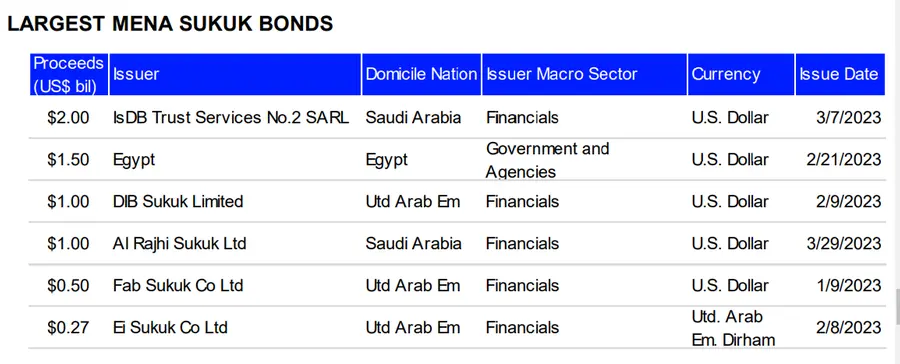 Citi took the top spot in the MENA bond bookrunner ranking during the first quarter of 2023, with $3.5 billion of related proceeds, or a 13% market share. Emirates NBD PJSC ranked first in Q1 2023 MENA Islamic bonds league table with $863.6 million proceeds six from issuances grabbing 14% of the market share.
Source: https://www.zawya.com/en/markets/fixed-income/value-of-mena-q1-debt-issuances-nearly-tripled-during-q1-2023-to-269bln-uakv23qo