Travel curbs, raw material shortages impact UAE's non-oil growth in June
The UAE non-oil private sector showed weaker improvement in business conditions in June as pandemic-related measures and flight cancellations impacted sales from abroad, while output growth was stymied by raw material shortages, a business survey showed.
The seasonally adjusted IHS Markit UAE Purchasing Managers' Index (PMI), which covers manufacturing and services, edged down to 52.2 in June from 52.3 in April, hitting a four-month low.
Raw material shortages pushed up input prices at the quickest rate in three months, leading firms to raise output charges for only the second time in nearly three years, IHS Markit said in its report based on the survey.
"Higher steel and concrete prices were often cited by survey panellists, as well as a rise in transportation charges," the PMI report noted.
However, several firms chose to hold off new purchases during June, leading to the first fall in input buying since last November. Despite this, the arrival of previously bought items led to the strongest expansion of inventories for ten months, the report said.
David Owen, Economist at IHS Markit, said: "Business conditions continued to improve at only a gradual pace in June, adding evidence to a mixed initial recovery from COVID-19 in the UAE non-oil sector. Firms often mentioned that material shortages had hampered output growth, while new sales were curtailed by travel restrictions."
Apparently, sustained sales growth and a slightly improved outlook for future activity encouraged firms to expand their workforce numbers in June.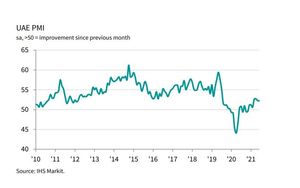 According to the report, the optimism remained mild due to the sustained uncertainty about the path of the pandemic.
"Further boosts to confidence and a drop in COVID-19 cases are likely needed to push the economy into another gear," Owen said.
Source: https://www.zawya.com/mena/en/economy/story/Travel_curbs_raw_material_shortages_impact_UAEs_nonoil_growth_in_June-ZAWYA20210705053721/