Souq Al Baraha to open in summer
A MULTI-MILLION-DOLLAR retail and hospitality project that aims to recreate a traditional Bahraini market streetscape is set to open its doors this summer.
Diyar Al Muharraq announced that construction work on the Souq Al Baraha project is now 80 per cent complete.
Located at heart of the Diyar Al Muharraq man-made island city, in close proximity to the main residential, commercial and entertainment hubs within the masterplan, the marketplace contains both indoor commercial spaces and outdoor kiosks.
The developer's chief executive Ahmed Al Ammadi told the media during a guided tour yesterday that the Souq Al Baraha has been designed to showcase local heritage and culture, featuring traditional Bahraini architecture combined with the convenience of modern-day shopping.
The market has a built-up area of 20,242sqm on a plot sized 64,202sqm.
It offers total leasable space of 13,431sqm, comprising 468 stores – ranging in size from 4sqm to 1500sqm, 20 office units and parking bays for 686 cars.
A substantial number of spaces in the project have already been leased to local and international investors, with Al Muntazah Market, owned by Al Meer Group, as the anchor tenant, said Mr Al Ammadi.
At nearly 1500sqm, the traditionally themed Al Muntazah supermarket will be one of the largest in the chain.
To ensure an authentic look and feel, Diyar will use the Air2O evaporative cooling technology – a first for Bahrain – in Souq Al Baraha.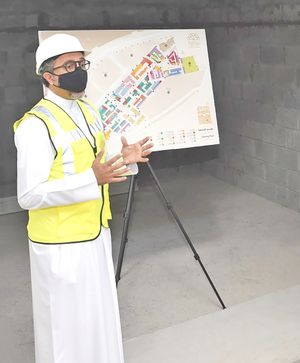 Mr Al Ammadi describing key features of the project yesterday
It has been developed by UK-based Cosaf, which claims the technology reduces energy use by 80pc as compared to refrigerant-based air conditioning.
The market will include a special section showcasing local heritage with a segment for handicrafts and gold jewellery, as well as a variety of traditional Bahraini products including food, carpets and handwoven textiles, all under one roof.
Special areas will also be allocated for fresh fruit and vegetables, as well as fish, meat and poultry.
Also available will be a range of restaurants, cafés, including many new-to-Bahrain international brands, a family recreational centre, public facilities, a fuel station and a mosque.
Noting that the adoption of an innovative and flexible approach had enabled the developer to overcome the repercussions of the coronavirus (Covid-19) pandemic, Mr Al Ammadi said the company had not "fallen far behind on construction schedule" and that he was "pleased with the pace of our current project development".
"Given the conditions in 2020, we are proud to say that we have not been affected much as it stands. As we gradually return to normalcy, we remain even more committed to completing our projects and look forward to a journey of growth and success with many more accomplishments in the future," he added.
"We are happy to see that the progress of construction work on Souq Al Baraha is well within the agreed timeframes, which further reflects Diyar Al Muharraq's commitment to timely delivery of all projects while adhering to the highest quality standards."
The main contractor on the project is Almoayyed Contracting while MSCEB is the main consultant.
Source: https://www.gdnonline.com/Details/940571/Souq-Al-Baraha-to-open-in-summer