Smart parking meters on way
MANAMA: A proposal to introduce government smart parking meters is under a comprehensive study, revealed a top government official.
Works, Municipalities Affairs and Urban Planning Ministry works affairs under-secretary Ahmed Al Khayat said, to coin a phrase, it was a matter of when and not if.
The Southern Municipal Council approved a proposal by its chairman Bader Al Tamimi to have smart parking meters to allow people to cut out the worry of not having enough small change in their pockets for the machines or facing fines for overstaying their welcome.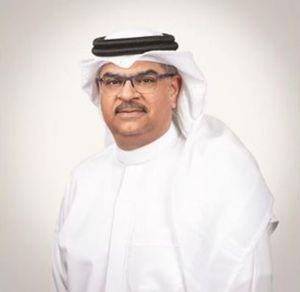 Mr Al Khayat
"We have been tasked by Minister Essam Khalaf to present different ideas for the implementation of the proposal, which we believe will be a step up from the government coins-only system," said Mr Al Khayat.
Several digital systems are being considered with numerous options available on the market. Test cases and comparisons of those already in operation are being analysed.
A conclusion of the study will be presented to the Supreme Council for Traffic, which is chaired by Interior Minister General Shaikh Rashid bin Abdulla Al Khalifa, for final approval of the most viable computerised operation available.
"The project would be then tendered out for bidders who would then link existing meters with the new system," he added.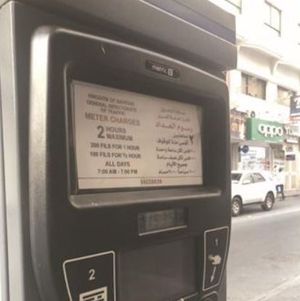 Meters set across the Old Manama Suq
Mr Al Tamimi is proposing that a mobile app be made available for motorists that would allow them to pay digitally through their smartphones for as much time as they needed to complete government service transactions or shopping trips.
He believes too many people are being penalised by traffic officers for failing to pay and display when technology could resolve many of the issues.
Motorists face a BD50 fine for improper parking or pay and display indiscretions which is halved providing a settlement is made within seven days of the registered offence.
Parking meters are in place in Manama, Gudaibiya, Hoora, Muharraq, Isa Town and Riffa among other areas.
On-street parking is charged at 100 fils per 30 minutes, from 7am until 7pm. There is a maximum two-hour stay allowed.
Mr Al Khayat believes the move would be beneficial on numerous fronts.
"The new electronic system ensures that motorists pay for parking without the excuse that they don't have enough coins in their pockets," he said. "The machines could be linked to something like BenefitPay which many already opt to use for paying for fuel at petrol stations.
"It would also give visitors to markets more time should they originally opt to stay for an hour and then have to rush back to their car to add another hour, or return home before they are finished shopping.
"The move would also save on the cost of printed tickets needed to be displayed from the inside of windshields as parking information would be in the system and could be easily checked."
Mr Al Tamimi hopes the new system can be implemented in time for Eid Al Adha, Ashoora and at the very latest before children return to school after the summer holidays.
"It has been around seven months since we first proposed the move and more and more services are shifting online," he said. "Adding meters to the growing list makes sense."
He added that the issue of shop workers and company employees taking an unfair advantage by filling up parking spaces for long periods and preventing others from using them could be easily resolved.
"The two-hour limit is there to ensure everyone benefits from parking spaces and that would stay the same, so an electronic alert would show if someone was breaking the rules through computerised registration," said Mr Al Tamimi.
"It is more about public awareness that people need to respect – implementation will help people adjust."
The Pay and Display meters cover 2,400 car parking areas located on nine trade roads across the country. Each solar-powered device covers 15 car parking spaces at a time. The hi-tech machines, which are computer-programmable, have been designed for payment by coins.
Source: https://www.gdnonline.com/Details/948610