Reservoir of infection: Covid-19 prevalence high in asymptomatic cases says study
ASYMPTOMATIC coronavirus (Covid-19) patients are more prevalent than those exhibiting symptoms, and constitute a reservoir of infection, a Bahrain study has revealed.
The study was conducted on 2,714 people who arrived by air from Iran or Egypt between February 25 and March 14 last year and were put on mandatory quarantine for two weeks after testing.
Of the total, 136 people tested positive for Covid-19 on arrival, with the majority (92) asymptomatic.
A further 52 people became positive over a 14-day period, while 24 people who were tested positive on day 14 remained asymptomatic until viral clearance.
Viral clearance refers to the time it takes for a virus to no longer be detected in tests. At that point, the body's immune system and treatments have successfully removed evidence of the virus. The amount of time it takes for a virus to clear from the system varies for each virus and can vary from person to person.
The findings of the study are contained in a paper titled 'The Prevalence of Asymptomatic and Symptomatic Covid-19 in a Cohort of Quarantined Subjects' published in the International Journal of Infectious Diseases.
Six experts who contributed to the scientific study are National Taskforce for Combating Coronavirus (Covid-19) monitoring committee head and BDF Hospital infectious disease consultant Dr Manaf Al Qahtani, BDF Hospital resident Dr Salman Al Ali and Mohammed bin Khalifa Cardiac Centre resident Dr Abdulkarim Abdulrahman, both members of the taskforce, Health Ministry disease control section chief consultant Dr Adel Al Sayyad, Royal College of Surgeons in Ireland – Medical University of Bahrain president Professor Sameer Otoom and its Post-Graduate Studies and Research head Professor Stephen Atkin.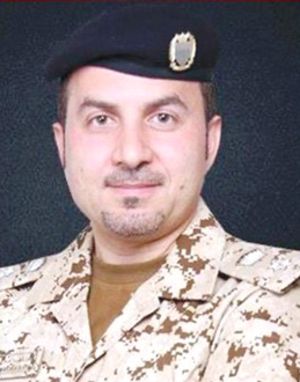 Dr Al Qahtani
"A total of 188 (90 males and 98 females) out of the 2,714 (6.9 per cent) patients became Covid-19 positive," said the white paper.
"On arrival, 136 out of the 188 tested positive, with 44 (23.4pc) symptomatic and 92 (48.9pc) asymptomatic.
"All 92 patients remained asymptomatic and were retested every two days until viral clearance."
The study added that 2,526 quarantined subjects remained virus free at 14 days, noting that viral clearance did not differ between symptomatic and asymptomatic patients.
"Of the 52 (27.7pc) out of 188 testing negative on arrival, 27 subsequently became positive and developed symptoms within two to 13 days after arrival.
"Another 25 (13.3pc) remained asymptomatic and tested positive on day 14, with viral testing undertaken every two days in these subjects."
None of the subjects reported contact with a known positive Covid-19 case.
Of the 188 who tested positive, 44 (16 male and 28 female) were symptomatic on arrival, three of whom (two females and one male) subsequently deteriorated and died on ventilator support.
The remaining 144 (41 male and 103 females) were asymptomatic on arrival, of which 92 tested positive on arrival and were transferred to hospital and remained asymptomatic until viral clearance.
Fifty-two people who tested negative on arrival were transferred to quarantine, with 27 of them subsequently developing symptoms and turning positive over the 14 days.
Another 25 remained asymptomatic but tested positive on day 14 of which one became symptomatic on day five, and the remaining (11 male and 13 female) remained asymptomatic with viral clearance (two negative tests 24 hours apart) between six and 14 days after their initial positive testing.
"These data show that in a large cohort of at-risk subjects, all of whom were monitored closely, the majority of those who were or subsequently became positive were asymptomatic and remained asymptomatic until viral clearance," added the study.
"Only a minority of subjects (23pc) with infection were symptomatic, and would have likely been picked up by temperature scanning at the airport.
"Of those who were asymptomatic and infected, onsite reverse transcription polymerase chain reaction (RT-PCR) screening picked up an additional 49pc of the infections; however, 28pc would not have been picked up even if tested after 48 hours.
"Of particular concern are the 13pc who remained asymptomatic and were only picked up with routine 14-day viral testing at the end of quarantine, and who remained asymptomatic until viral clearance up to 14 days later, a full 28 days post-arrival.
"There are few reports on how transmission can occur with these silent transmitters; there is evidence that asymptomatic patients are infectious, and therefore these subjects would be a reservoir of infectivity."
Source: http://www.gdnonline.com/Details/923868/Reservoir-of-infection-Covid-19-prevalence-high-in-asymptomatic-cases-says-study