Renewed call for taking booster jabs
In line with medical research, the National Taskforce for Combating the Coronavirus highlighted the importance of taking a booster dose within a maximum of six months after receiving the second dose of the Pfizer-BioNTech or AstraZeneca Covid-19 vaccine.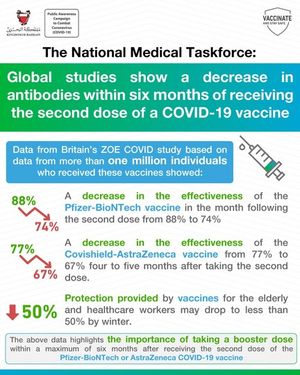 Data from a study showed a decrease in the effectiveness of the Pfizer-BioNTech vaccine in the month following the second dose from 88 per cent to 74pc, while the effectiveness of the Covishield-AstraZeneca vaccine decreased from 77pc to 67pc after four to five months after taking the second dose.
The study was based on data from more than one million individuals who received these vaccines. The study by Britain's ZOE COVID also showed that the protection provided by vaccines for the elderly and healthcare workers may drop to less than 50pc by winter.
The taskforce noted that a booster dose can increase efficacy levels and enhance the body's immunity against Covid-19 and its variants, as well as reduce severity of symptoms and mortality rates in case of infection.
Those who meet the required criteria are encouraged to register for a booster dose on the Health Ministry's website healthalert.gov.bh or on the BeAware application.
Britain and other European nations are planning for a vaccine booster campaign after top vaccine advisers said it might be necessary to give third shots to the elderly and most vulnerable.
Source: https://www.gdnonline.com/Details/965068/Renewed-call-for-taking-booster-jabs