Population to hit 2.1m by 2032
BAHRAIN'S population is projected to grow from more than 1.5 million last year to 2.1m by the year 2032.
The forecast by the Information and eGovernment Authority (iGA) showed a gradual increase of about 50,000 people per year.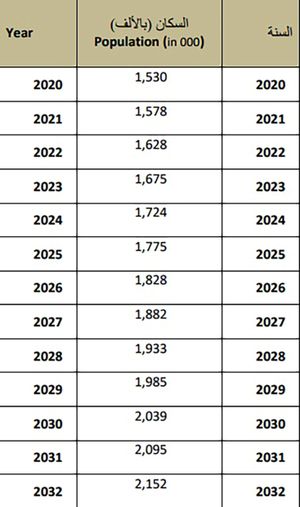 The projected population growth in Bahrain until 2032
The estimates were arrived at with the help of the Cohort Component Method which assumes that demographic change, mortality, fertility and migration will remain constant throughout the projection period.
"The actual July 2019 population is used as a correction factor to revise the earlier population projections," the iGA said.
Latest statistics about the 2020 census posted on Bahrain's open data portal (data.gov.bh) showed that the total population was more than 1.5m last year – 712,362 Bahrainis and 789,273 expats.
Of these, 558,740 were women, including non-Bahrainis.
A total number of 3,335 people were aged 85 and above, of which 3,060 were Bahrainis – 1,756 of them women.
Those living in the Capital Governorate numbered 548,345, followed by the Northern Governorate (379,637), Southern Governorate (305,547) and Muharraq (268,106).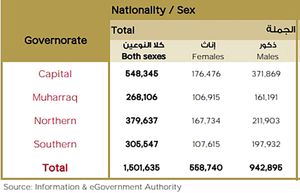 The data also showed that of the total population, 390,102 were non-Muslims of which 2,295 were citizens.
There were 228,972 private households in the country, with 17,011 residences falling under the collective household category.
A total of 4,818 properties were listed under the traditional house category with expatriates occupying 991 such buildings.
The statistics also showed that the total number of employed individuals in the labour force was 875,558 of which 621,348 were non-Bahrainis.
A total of 82,411 expats were unemployed – this included 56,669 housewives besides the elderly, students and those retired or unable to work.
As for Bahrainis, the total number within the labour force reached 254,210, while 241,393 nationals were either housewives, students, pensioners or the elderly.
Source: https://www.gdnonline.com/Details/940234/Population-to-hit-21m-by-2032