Pop-up restaurant to serve culinary delights
La Table Krug by Y (LTKBY), located at The Ritz-Carlton Bahrain, is moving to the beach for an exclusive pop-up.
During its tenure at the location, the restaurant, led by the renowned Yann Bernard Lejard, will serve up 'Cuisine de Maison', otherwise known as 'comfort home cooking', in a refined contemporary bistro-style ambience.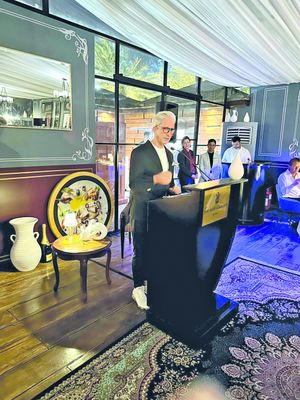 Culinary creator Yann Bernard Lejard
Expect dishes with a rich history that are full-of-flavour and texture including the likes of Mussels a la Provençale, a recipe from the chef's early years as a Commis in the French city of Le Grau du Roi in Camargue, eggs 'Mimosa', a Sunday staple from his mother, or the simple mi-cuit salmon with cold stuffed zucchini.
Other favourites will also be on show such as 'The Chicken a La Boss', a roasted chicken stuffed with field mushrooms and Foie-Gras served on a 'tartine' of Romanian focaccia bread, warm truffle butter, coloured and crispy potatoes, 'The Beef Tenderloin Centre Cut', cooked on charcoal with salt flakes, and Sichuan hazelnut butter, and the 'Local Catch Lobster Thermidor' served with spinach leaves, mustard seeds and arroz saffron.
To finish the meal, guests can enjoy a cheese assortment explained by the knowledgeable Chef Fromager and moreish desserts like San Sebastian Cheesecake, Tiramisu, Profiteroles Royale and Baba.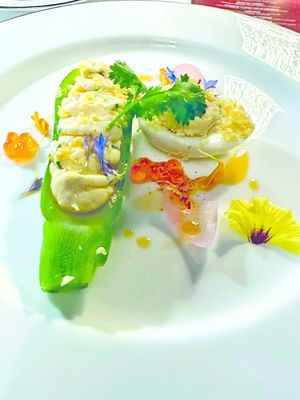 Delightful dish
Complementing the culinary creations will be a range of mixologist creations, flavoured sodas and juices, including the 'Flower Power' cocktail.
Go Bistro by La Table Krug by Y will be open until the first week of September, except Mondays, from 5pm to 11pm.
For additional information, or to reserve, dial the dining concierge directly at (+973) 1758 6499, or email rc.bahrz.restaurant.reservations@ritzcarlton.com.
Source: https://www.gdnonline.com/Details/1240968/Pop-up-restaurant-to-serve-culinary-delights