People entering Bahrain to be tested three times in span of 10 days
People coming to Bahrain from abroad will have to be tested three times over a period of 10 days starting from Monday.
In addition to the initial test that people take on arrival, the new measure will mean they will have to undergo an additional test after five days.
They must then take a third test five days later if they plan to stay more than 10 days in Bahrain.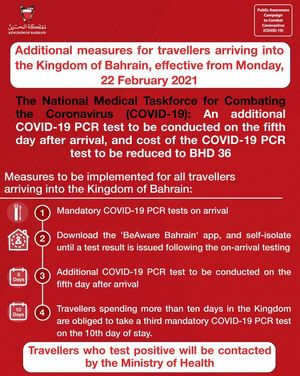 All travellers will have to use the BeAware application to make sure they get their test results.
The National Taskforce for Combating Covid-19 also announced that the fee for the PCR test has been reduced to BD36 from BD40.
Source: https://www.gdnonline.com/Details/936201/People-entering-Bahrain-to-be-tested-three-times-in-span-of-10-days