New rules on way to regulate instalments
New rules, backed up by the power of the law, are to be introduced to ensure consumers do not pay excessively for items they purchase on the never-never.
It should be good news for those who have bought something using credit and face payments over many months because they haven't the funds to hand over a single lump sum.
The Shura Council's financial and economic affairs committee has unanimously backed a new law following claims that traders have been charging inflated prices through instalment plans.
Regular
The new rules, however, seek to benefit all parties as they also aim to ensure that customers pay the seller regularly, without delays or disruptions. The draft legislation, proposed by five members, has been spearheaded by Dr Bassam Albinmohammed.
"This law is the first step towards ending unfair practices and regulating these types of transactions," said committee chairman Khalid Al Maskati.
"A mobile phone that should cost BD300, for example, can cost the customer BD600 if they pay for it by instalments.
"People have been burdened with unfair payments and it's making their lives a nightmare."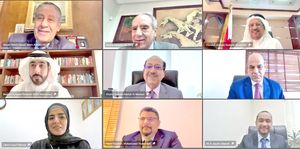 Mr Al Maskati, centre, and Mr Albinmohammed, first in second row, with other committee members and officials during the meeting
Mr Al Maskati added that the current circumstances imposed by the pandemic have pushed many to seek instalment payments for items they need because money is tight.
"There has been a growing demand for services, products and electronic appliances to be paid through instalments.
"In the case of loans or financial services, any charges are clearly determined by the Central Bank of Bahrain (CBB), but here they are not, and this is what pushes sales into 'greed mode' by some unscrupulous traders."
Mr Al Maskati said the law is set to be linked with the 2015 Consumer Protection Law amongst other laws that aim to protect consumers and also guarantee businesses don't lose out either.
"The current law deals with goods that are sold directly but not those purchased by instalments. We have linked the new legislation with the rights in the Consumer Protection Law and have also given the Industry, Commerce and Tourism Minister the power to determine acceptable percentages that should be taken as additional charges, with any other sum being considered as cheating.
"A link has been also established with the 2006 Central Bank of Bahrain and Financial Institutions Law."
Dr Albinmohammed said he appreciated that payment by instalments took longer to collect in comparison to straight cash-in-full transactions but that was 'no excuse' for taking advantage of customers.
He said there should be an acceptable amount charged for payment by instalments. The legal mechanism and full details will be announced later.
The law has been referred to Shura Council chairman Ali Saleh Al Saleh for inclusion at the first of sessions of the new term starting in October.
Source: https://www.gdnonline.com/Details/948182/New-rules-on-way-to-regulate-instalments