Companies news
NBB takes key measures to achieve environmental targets
NBB has showcased its commitment to protecting the environment by not only setting targets and initiatives, but also in ensuring they are achieved and delivered, according to a key member of the bank's sustainability team.
Abdulrahim Abdulhameed, senior associate for debt capital markets and syndications and sustainability officer, told the GDN that actions taken by the bank include installation of a building management system, moving backup data centre to a shared facility, refurbished offices and branches to include energy efficient systems, and replacement of old chillers, amongst others that have contributed to reducing energy consumption in head offices by 11 per cent.
In addition, NBB's scope one and two emissions have also decreased by 11pc in head offices, and water consumption witnessed a drop of 7pc, all since the beginning of the journey.
This trend continued in quarter one 2022 year-on-year with a reduction of 10pc in energy consumption in head offices, and 24pc reduction in branches.
GHG emissions have also reduced by 13pc.
NBB obtained the ISO 14001 Environmental Management System which not only assesses various environmental aspects and impacts of the bank, but also sets targets annually to reduce our environmental footprint.
NBB has met its energy consumption and diesel consumption targets for the year 2021.
Additionally, the bank reduced its paper consumption by around 30pc and recycled 24pc of paper used.
The bank also recorded 6.9 tonnes of recycled E-waste in 2021 and 990kgs in the first quarter of 2022.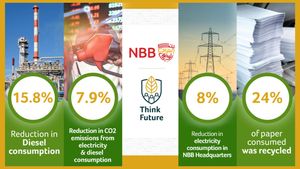 "Our bank aims to include all of its staff in its sustainability journey. An example of this is encouraging our staff to participate in the numerous volunteer activities NBB takes part in annually. In 2021, the bank partnered up with Clean up Bahrain to plant trees in a number of areas in Bahrain and held a beach clean-up event; 350 employees came together and collected 1,050kg of waste," said Mr Abdulhameed.
In addition, each staff member was provided with a personalised stainless steel insulated bottle to reduce the consumption of plastics bottles.
That was the equavalent of over 650 employees.
In spite of reducing the environmental footprint NBB continues to explore ways of diversifying the source of energy use.
"As such, NBB has already started the use of solar panels to partially power two of its branches."
In support of community initiatives that are aligned with the environment, the bank has opened the opportunity to employees to support young entrepreneurs with their creative environmentally-friendly products.
In recognition of Earth hour, NBB switched off all lights at their headquarters in Bahrain. This initiative included encouragement of our employees to come with their own participation in this event
The bank also sponsored a number of students from the university of Bahrain in their participation in the solar decathlon.
To raise the awareness around environmental protection, the bank has launched a number of webinars and awareness sessions to its employees
NBB also arranged Bahrain's first sustainability linked loan which entails that the borrower to meet certain environmental KPIs that would reward the borrower with reduction in the loan pricing.
NBB extended its support to the latest food sustainability project set to design, build, operate and handover a hydroponic farm in Bahrain
The bank also financed the construction of a new fully-fledged hospital which includes the installation of solar panels.
Talking about greenhouse gas emissions, Mr Abdulhameed said the bank is measuring direct emissions, which are generated from petrol and diesel consumption, as well as our indirect emissions which are generated from purchased electricity.
"We set targets annually and focus on improving our Building Management System to minimise our carbon footprint. In addition, we have installed solar panels in two of our branches.
"As for the business aspect, our indirect emissions are reflected in our customers' and clients' emissions when they use services that contribute to producing greenhouse gases. An example of this would be if a client used a loan from our bank to fund a project that would generate emissions."
NBB will continue to explore options that will enable our clients to opt for greener and more environmentally-conscious operations, he said.
"This will not only help NBB contribute to achieving net zero carbon emissions but also allow our customers and clients to achieve the same."
Source: https://www.gdnonline.com/Details/1114236/NBB-takes-key-measures-to-achieve-environmental-targets