NBB offers solar panel financing
The National Bank of Bahrain (NBB) has launched an exclusive financing offer for its retail customers looking to install solar panels.
The bank said under the offer customers will benefit from quick approvals, competitive interest rates, zero processing fees and a 50 per cent discount on insurance fees with a tenor of up to seven years.
NBB has partnered with Almoayyed Solar Company for providing the solar panels.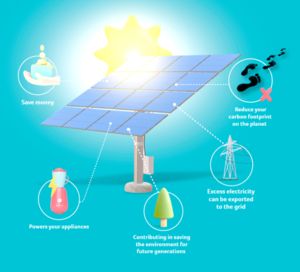 In the future, the bank will look at similar partnerships with other solar panel providers in the kingdom.
Solar panel installation positively contributes towards decreasing the current impact on the environment, and installers will ultimately be able to reduce their costs in the long run as they receive a reduced electricity bill and gain an increase in the property value over time.
Commenting, Subah Al Zayani, chief executive for retail banking at NBB, said: "We are pleased to offer different and diverse financing options, such as personal financing for solar energy. Through this initiative, we hope to increase awareness amongst our valued customers about the benefits of adopting solar energy and the significant positive impact that this step will have. We encourage our customers to apply to this unique offer, and work side by side with us in order to preserve the environment and enrich the lives of future generations."
The bank said it seeks to contribute meaningfully towards environment preservation, and has implemented an array of ESG initiatives, including the installation of solar panels in select branches, as part of a three-year sustainability roadmap.
Source: https://www.gdnonline.com/Details/977180/NBB-offers-solar-panel-financing