Minimum gap for Covid-19 booster jabs reduced
The minimum gap for Covid-19 booster shots has been reduced from six to three months following the emergence of a new variant.
Covid-19 Taskforce monitoring committee head Lt-Col Dr Manaf Al Qahtani announced the change in protocol during a Press conference held remotely from the Crown Prince Centre for Training and Medical Research, Riffa.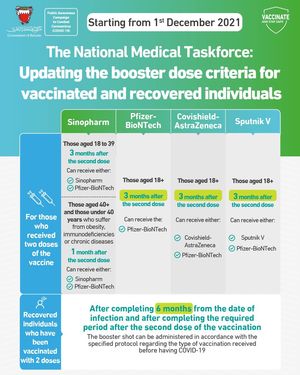 Dr Qahtani also called on people to exercise caution.
"There is no doubt that for over two years we've seen variants, which will continue until a high percentage of the global population are vaccinated.
''Viruses and variants are not related to a country or race.
"It's the result of human behaviour," Dr Al Qahtani said.
PRO-ACTIVE RESPONSE
Bahrain will take all pro-active measures to tackle Covid-19.
"We assure you that the paths to dealing with Covid-19 will continue until we achieve the desired goals," Health Ministry Under-Secretary Dr Waleed Al Manea said.
"In light of the discovery of the new variant Omicron in a number of the countries around the world, we confirm that the national taskforce and other parties concerned are constantly following up on global developments.
"We will not hesitate to take the necessary measures at the local level to protect citizens and residents of the kingdom."
Source: https://www.gdnonline.com/Details/1015480/Minimum-gap-for-Covid-19-booster-jabs-reduced