Middle East hedge funds post double-digit gains in August 2021
Middle East hedge funds made a promising comeback this year after a weak performance in 2020, with year-to-date returns hitting double digits, according to the latest data from Nasdaq-owned eVestment, a wealth management analytics firm.
Funds domiciled in the region and the rest of the world posted year-to-date (YTD) returns of 12.79 percent in August, up from 6.55 percent in 2020 and 10.8 percent in 2019. Yields for August alone were at 2.27 percent, higher than the global average.
Year-to-date returns for hedge funds with focus on Africa and the Middle East also averaged 17.64 percent, compared to just .30 percent in 2020.
Across the world, the fund business performed better in August compared to the previous month, posting an aggregate yield of 0.77 percent, which is "a return to positive territory following a dip into the red" in July.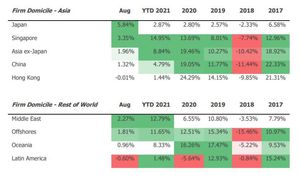 The average hedge fund performance data for select hedge funds. Source: eVestment
The vast majority of managers reporting to eVestment (67.4 percent) said they had positive returns last month, the best level in three months.
August gains brought the year-to-date hedge fund industry aggregate return to 9.53 percent. However, the global average gains for the month remained relatively low.
"August hedge fund performance was interesting for its relative low dispersion of returns," said Peter Laurell, global head of research at eVestment.
"The average of the positive return during the month was not great, +1.97 percent, the second lowest level of 2021, but the average loss was not tremendous either at -1.79 percent. The differential between average gains and average losses is the narrowest in over two years, since July 2019," he said.
Source: https://www.zawya.com/mena/en/wealth/story/Middle_East_hedge_funds_post_doubledigit_gains_in_August_2021-ZAWYA20210913054647/