MENA equity capital markets stutter in Q1-2023 as number of deals fall
MENA equity capital markets (ECM) raised $3.6 billion in equity and equity-related issuances during the first quarter of 2023, declining 6% compared with the proceeds raised in Q1 2022.
The number of issues too fell 7%, according to the latest Refinitiv Deals Intelligence data.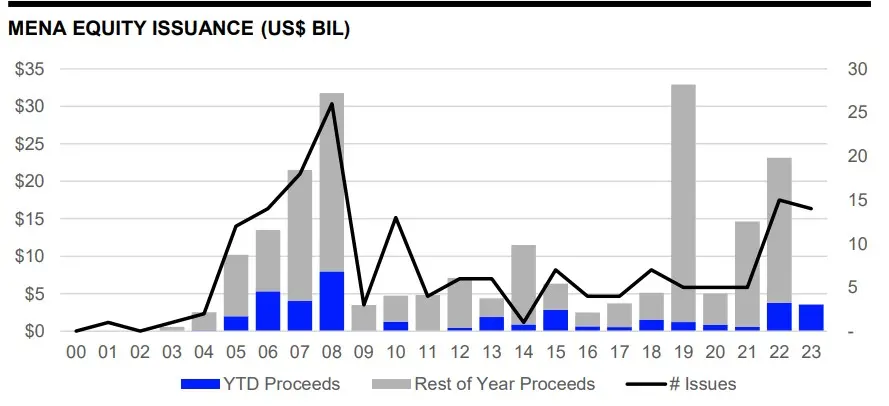 IPOs accounted for 99% of activity, while follow-on issuance accounted for 1%, the data showed.
A total of 13 IPOs were recorded in Q1 2023, consistent with the number of IPOs issued a year earlier. Combined, they raised proceeds worth $3.5 billion, down 5.3% from a year ago.
Abu Dhabi's ADNOC Gas PLC raised $2.5 billion in its stock market debut in March, making it the largest IPO globally so far this year and the largest MENA oil & gas IPO of all time.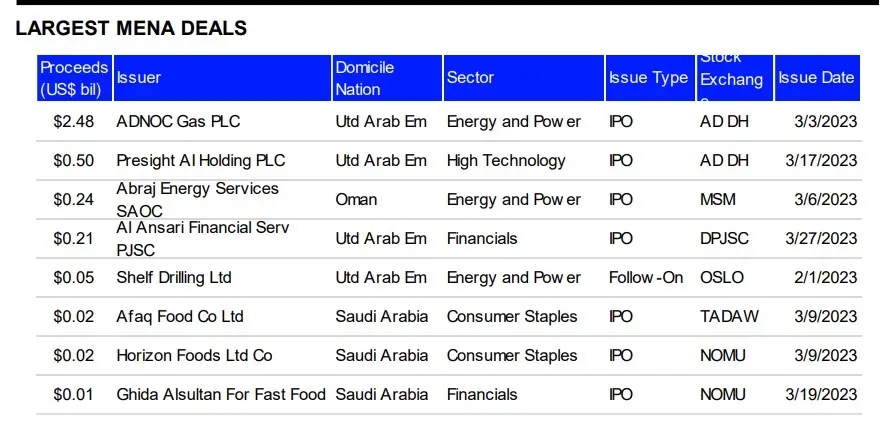 UAE's Presight AI Holding's IPO followed, netting $0.50 billion while Oman's Abraj Energy Services' IPO raised $0.24 billion.
UAE's Shelf Drilling Ltd. had the sole follow-on issuance which raised $0.05 billion.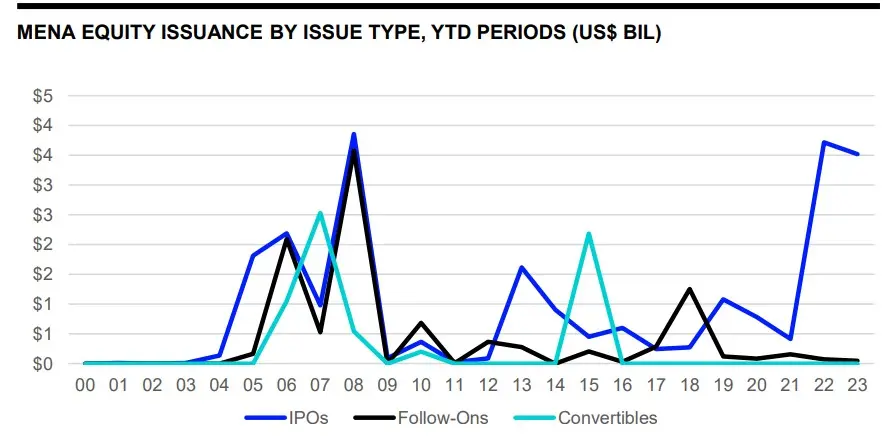 The energy & power sector was most active, with issuers raising $2.8 billion accounting for 78% of total equity capital raisings in the region.
The high technology and financials sectors rounded out the top three, accounting for 14% and 7% market share, respectively.
Dubai Islamic Bank PJSC took first place in the MENA ECM underwriting league table during the first quarter of 2023 with an 13.9% market share, followed by EFG Hermes with 12.9% market share.
Source: https://www.zawya.com/en/markets/equities/mena-equity-capital-markets-stutter-in-q1-2023-as-number-of-deals-fall-ydepi3ln