M&A deals in MENA reached $31.9bln in H1 2023 - Refinitiv
The value of announced M&A transactions with any MENA involvement reached $31.9 billion during the first six months of 2023, down 34% compared to a year ago, according to data compiler Refinitiv
This is the lowest first half total since 2017.
While down 23% from last year's all-time record first half tally, the number of deals announced in the region during the first six months of 2023 reached the third highest first-half level since Refinitiv's records began in 1980.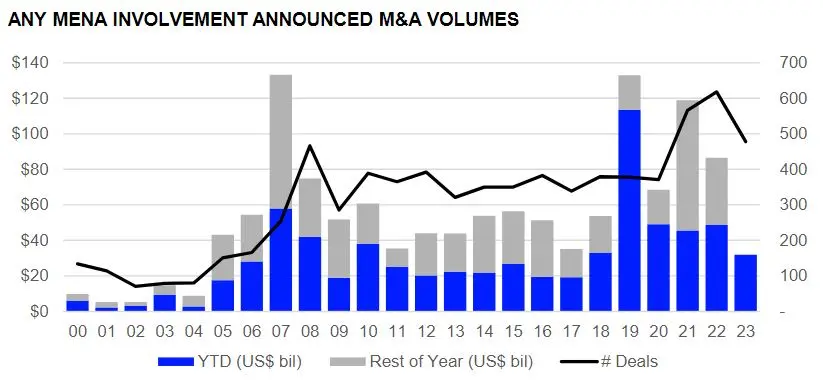 Deals involving a MENA target totalled $15.1 million during the first six months of 20203, down 43% from last year and a six-year low.
Inbound deals involving a non-MENA acquiror declined 13% to $7.6 billion, while domestic deals decreased 58% in value to $7.6 billion.
MENA outbound M&A totalled $16.0 billion, a first-half total only exceeded once in the last fifteen years. Saudi Arabia's outbound investment is set total $10.9 billion in H1.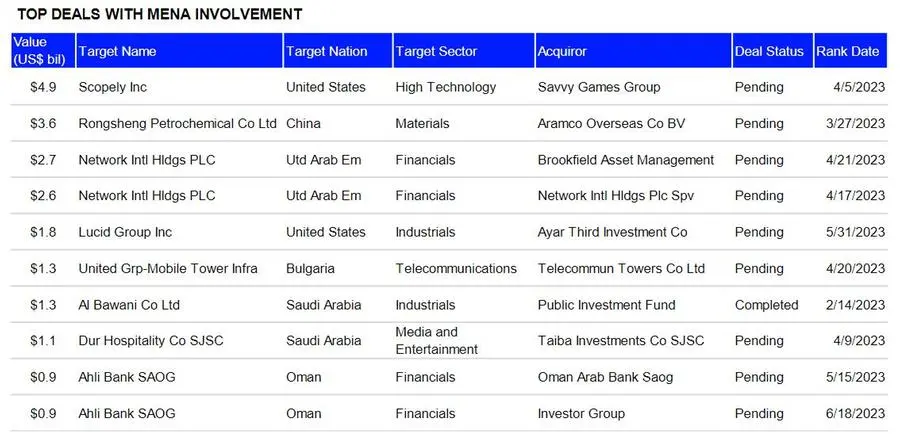 Scopely Inc. of the US is set to be acquired by Savvy Games Group, wholly owned by Saudi Arabia's Public Investment Fund (PIF), for $4.9 billion, making it potentially the largest deal.
This is followed by, state oil giant Saudi Aramco's planned acquisition of a stake in China's Rongsheng Petrochemical Co. Ltd for $3.6 billion.
The Financials sector was most active, with deals targeting industrial companies accounting for 57% of MENA target M&A during the first half of 2023. Deals amounted to a total $8.6 billion.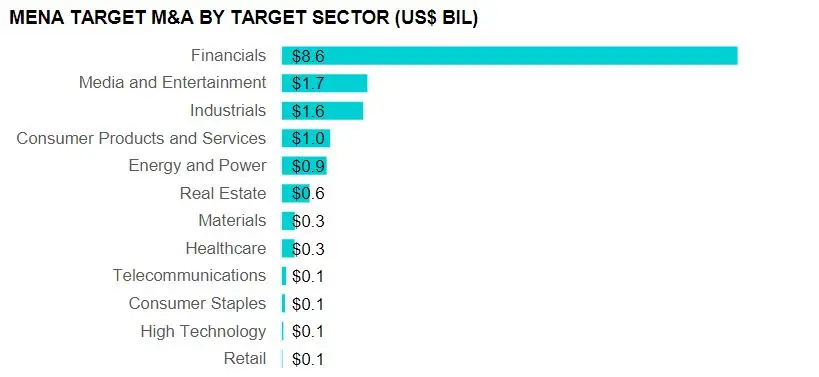 The Media & Entertainment sector accounted for 11% followed with deals totalling $1.7 billion.
The UAE was the most targeted nation, followed by Saudi Arabia and Oman.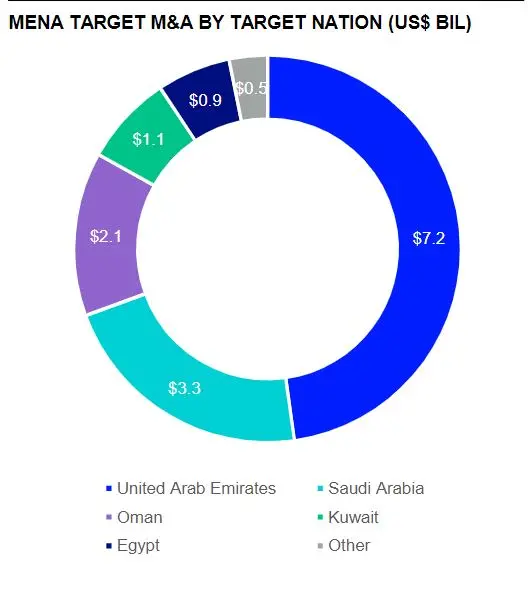 JP Morgan topped any MENA involvement announced M&A financial advisor league table during the first half of 2023 with eight deals and a market share of 28.9% for a total value of $9.22 billion.
Source: https://www.zawya.com/en/markets/equities/m-and-a-deals-in-mena-reached-319bln-in-h1-2023-refinitiv-f38re4nl