ila Bank launches 'ila Rewards' – a customisable credit card rewards programme with strategic alliances with Gulf Air and Turkish Airlines
Manama: ila Bank, the digital mobile-only bank powered by Bank ABC, has unveiled a new credit card rewards programme, 'ila Rewards,' powered by Mastercard's PwR platform.
The customisable rewards programme enables customers to redeem rewards in a seamless and instant way through the ila Bank application. ila Bank is the first bank in Bahrain to utilise Mastercard's PwR service and the first issuer in MENA to proceed with full in-app integration to offer credit card holders a personalised end-to-end digital experience journey.
The programme is designed to suit the unique needs of each of ila's customers. Not only will ila credit card holders be rewarded for their credit card spends, but they will also be empowered to choose their reward blueprint according to their preferences and priorities.
ila Rewards offers customers various reward options: airline miles, cashback or ila tokens. Customers can choose the programme they would like to join and are free to switch between programmes to meet their changing lifestyle needs.
When enrolling into the airline miles programme, all purchases are automatically converted into airline miles and credited into the customer's frequent flyer programme with either Gulf Air's 'Falconflyer' or Turkish Airlines' 'Miles & Smiles' programme.
The cashback programme automatically converts all purchases into up to 1% cashback, which is credited into the customer's Credit Card account on a monthly basis. Meanwhile, the ila Tokens programme enables customers to collect ila Tokens and choose how they want to spend them – either as airline miles, cashback or to pay for transactions made within the last 30 days.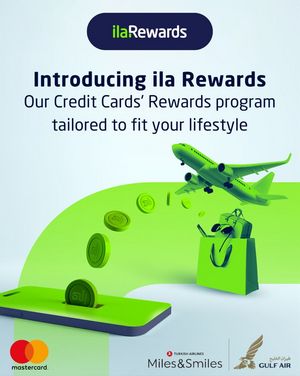 Customers are also offered the flexibility of enjoying multiple benefits by specifying how many tokens they would like to redeem as airline miles, cashback or to redeem previous purchases made through their ila credit card. ila Tokens are valid for three years, and customers can manually redeem them however and whenever they choose to.
Commenting on ila Rewards, Nada Tarada, Head of Business & Customer at ila Bank, said: "We are proud to be pioneering this unique rewards programme for our valued customers in Bahrain. Offering unmatched flexibility, ila Rewards enables customers to select the type of rewards they like, with no restrictions to shift between various reward plans at any time while maintaining the same credit card. With multiple reward and redemption options offered to customers, we at ila Bank can stand strong on our claim of truly offering 'banking that reflects you'."
New credit card customers will be able to choose their reward programme upon the approval of their credit cards. Existing users are automatically enrolled into the cashback programme, with the flexibility to switch to their desired programme.
"We are proud to have the national carrier of the Kingdom of Bahrain, Gulf Air, and one of the best global carriers, Turkish Airlines, as our main strategic partners within the airline miles category of the rewards programme. Either way, ila Bank continues to take its customers to their dream destinations," added Ms. Tarada.
Maria Medvedeva, Country Manager, Saudi Arabia and Bahrain, Mastercard, said: "At Mastercard, our commitment to innovation and excellence drives us to deliver seamless digital banking experiences that meet evolving consumer needs. We are delighted to join forces with ila Bank for the launch of 'ila Rewards'. This initiative empowers customers to tailor their rewards, setting a new standard of personalisation for banking in the MENA region."
Sign up for your ila credit card today to be able to take advantage of your credit card spends and enjoy the ultimate flexibility of choosing your tailor-made reward programme.
Source: https://www.gdnonline.com/Details/1290827/ila-Bank-launches-%E2%80%98ila-Rewards%E2%80%99-%E2%80%93-a-customisable-credit-card-rewards-programme-with-strategic-alliances-with-Gulf-Air-and-Turkish-Airlines