Hundreds join global fight against waste
HUNDREDS of volunteers in Bahrain joined millions of people in nearly 180 countries in the fourth World Cleanup Day yesterday.
The 24-hour green wave of cleanups is the largest single peacetime civic action against waste, aimed at raising awareness of the scale of the global waste crisis threatening the environment and the lives of millions of people and all living beings.
In Bahrain, the campaign featured different groups clearing up litter and waste from the beaches and the sea in Malkiya, Manama and Fasht Al Jarem, north of Bahrain.
From the Malkiya coast alone, volunteers collected 500kg of waste.
"This year as a group of volunteers we decided that we needed to focus on one beach rather than being spread in different areas across Bahrain," CleanUp Bahrain co-founder and board chairman Ali Al Qaseer.
"Other groups are cleaning areas near them.
"We scouted different locations across Bahrain and found Malkiya beach to be the most heavily littered.
"That doesn't mean that Malkiya residents or municipal officials don't care. They are working tirelessly; it is just that the place is visited by many people daily since the country moved to the Green Alert Level earlier this month.
"People visiting the place just enjoy their picnic and decide that it is time to leave everything for others to clean up. This is wrong, such irresponsible behaviour needs to stop."
He said that an estimated 500kg of garbage was collected from Malkiya's coast alone.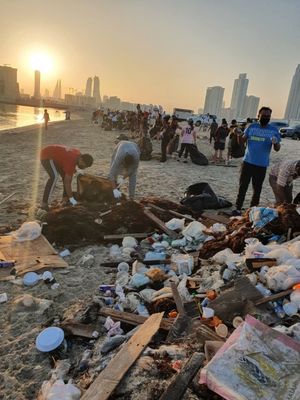 Volunteers helping each other during the cleanup
"We have to arrange another visit to Malkiya because cleaning the place up needs more time. Even with the cleaners provided by the government and area residents volunteering, things there remain an eyesore and a threat to the environment and health.
"Most of the garbage we collected is plastic soda and water bottles and bags, leftover food, construction debris and used furniture.
"Dumping is a habit that we need to stub out and this comes when everyone takes a stand against cleanliness illiteracy."
Meanwhile, Seeb Marine and Water Garden City organised a beach cleanup in Manama.
"Wherever you go, you will find sea, you will have a beach," said Seeb Marine managing director Feras Nooruddin.
"Talking about the marine industry, entertainment by the sea, sea food, island hopping, boating, diving, water sports, beach activities amongst many other attractions.
Responsibility
"It is our key responsibility to keep the beaches, the coastal areas clean and tidy."
Companies, outlets and restaurant chains taking part in the Manama cleanup sent their employees to take part in the campaign.
The Bahrain Diving Volunteer Team Authority also organised a massive clean-up in Al Jarem. They were joined by the Dawoodi Bohra community.
Fifteen volunteers collected more than 40 bags of litter from the island.
Meanwhile, 50 million people from up to 180 countries took part in the fourth World Clean-up Day, held annually on a weekend day in mid-September.
The day is organised by Let's Do It World, which is one of the largest environmental organisations in the world headquartered in Estonia.
Let's Do It World is an accredited member of the UN Environment Assembly and conveying partner of the UN Sustainable Development Goal Action Campaign.
Source: https://www.gdnonline.com/Details/977390/Hundreds-join-global-fight-against-waste