Healthy City: WHO confers Manama with prestigious global recognition
MIGHTY Manama has been designated as a 'Healthy City' as part of a global movement by the World Health Organisation (WHO) to put health high on the social, economic and political agenda of city governments.
Bahrain's capital has completed all the 80 criteria steps necessary for accreditation in order to receive the sought-after title.
The check list includes water, sanitation, food safety, air pollution, green spaces, volunteer campaigns, empowering women and health development, among others.
Achievements
"We are proud of this achievement as Manama is now the only capital in the eastern Mediterranean region that is recognised as a healthy city by the WHO," Capital Governor Shaikh Hisham bin Abdulrahman Al Khalifa told the GDN yesterday.
"This designation shows that our capital has the best infrastructure, including health services, green buildings, walkways and a safe environment that is now globally-recognised and a model for other nations."
The WHO estimates that by 2050, 70 per cent of the world's population will live in cities, making it important to ensure that people are living in clean and decent environments rather than depressing and dangerous urban sprawls.
It launched the Healthy Cities Programme in 1986 aiming to improve the health status of the world's population through concerted community efforts to achieve integrated social and economic development, in addition to raising the level of environmental health services and living conditions for sustainable development.
Shaikh Hisham along with Health Minister Faeqa Al Saleh and other officials attended a virtual meeting yesterday chaired by the WHO's Eastern Mediterranean Regional Office regional director Dr Ahmed Al Mandhari as it announced Manama met all the criteria after their evaluation.
"Sincere congratulations to the leadership and the people of Bahrain on awarding Manama as a Healthy City by the WHO," said Dr Al Mandhari.
"Multi-sectoral collaboration and active community engagement have made Manama a model for health and development."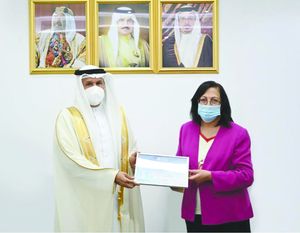 Shaikh Hisham receives the WHO accreditation certificate from Ms Saleh
Manama, which translated from the Arabic means a 'place of sleep or rest' has historical and commercial elements, Shaikh Hisham added, that played a key role in meeting the healthy cities requirements, alongside good infrastructure such as electricity, paved streets, green spaces and the presence of many civil society organisations.
"Our teams continued to work throughout the pandemic," he said. "This included delivering food parcels to low-income workers, disinfecting markets and relocating migrant workers to temporary housing to reduce overcrowded accommodation."
"All these efforts played a key role in gaining the status and this was acknowledged by the WHO teams. We want to continue developing our existing infrastructure."
The Capital Governor said the local authority worked in close co-operation with the Health Ministry on the project that focused on improving the quality of life for all citizens and residents and achieved United Nations sustainable development goals.
He further added the plan was to add more districts and villages under the Capital Governorate to be recognised as part of the Healthy City initiative.
"Bahrain has a great medial infrastructure, and we can see the efforts of the medics and Team Bahrain during Covid-19," he explained.
"We have started to see the number of Covid-19 cases reduce alongside vaccination rates going up and this indicates that we will be out of the current situation soon."
Promote
Furthermore, Shaikh Hisham congratulated the Bahrain leadership for their support and said there are plans to promote the 'Manama Health City' status in all future promotional campaigns and posters.
Neighbouring Umm Al Hassam went through the same process and received accreditation in 2018, as reported by the GDN. For 30 years the WHO European Healthy Cities Network has brought together some 100 flagship cities and approximately 30 national networks.
Source: https://www.gdnonline.com/Details/948050/Healthy-City-WHO-confers-Manama-with-prestigious-global-recognition