GREEN LINK: Solar panels and wind turbines to power new causeway
Bahrain plans to use solar panels and offshore wind turbines on and around the planned King Hamad Causeway, the second bridge to link the country with Saudi Arabia.
This was revealed yesterday by Sustainable Energy Authority president Dr Abdulhussain Mirza who said they have contacted relevant authorities to include clean energy options in the new 25km-long strategic artery that will run parallel to King Fahad Causeway.
"We are looking at the new King Hamad Causeway that will link Bahrain to Saudi Arabia because it's 25km long and will provide ample opportunities for solar panels and off-shore wind turbines," Dr Mirza told the GDN yesterday during a webinar organised by the National Communication Centre.
"We have written to the Transportation and Telecommunication Minister to incorporate this in the design."
Dr Mirza said they continue to push for clean energy in future projects, and cited the example of the planned 550m crossing, the fourth structure to connect Manama with Muharraq.
Solar panels will be installed across the new bridge which will also serve as a canopy for a dedicated pedestrian walkway incorporated on the structure.
"The fourth bridge that will connect Manama and Muharraq is called the 'Signature Bridge' and this will be the first-of-its-kind bridge in Bahrain with solar panels," said Dr Mirza.
"The Works, Municipalities Affairs and Urban Planning Ministry asked us to show the use of solar panels on the bridge and we engaged with a consultant to work on it. They were happy with the design."
Furthermore, Dr Mirza said they were studying the prospects of further installing floating solar farms and offshore wind turbines.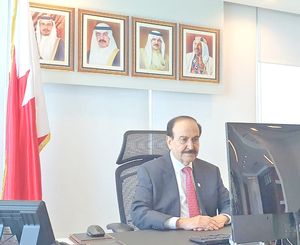 Dr Mirza speaking at the webinar yesterday
"Bahrain's onshore landmass is limited, but our territorial waters are four times the size of the land mass," he replied to the GDN. "So we have a large area of water or sea, which we can use either to put floating solar panels or wind turbines, and this is what we are working on now.
"There are some companies who have approached us already."
He added around 10,000sqm is required to generate one megawatt of electricity which makes it feasible to install clean energy projects in Bahrain's territorial waters.
"In addition, we have covered eight schools by installing solar panels on their rooftops, and our plan is to cover 530 government buildings, hospitals and schools," he added.
Dr Mirza said during the webinar that there was a growing interest among foreign companies to invest in renewable energy projects in Bahrain. Already there are two factories producing solar panels in the kingdom, he added.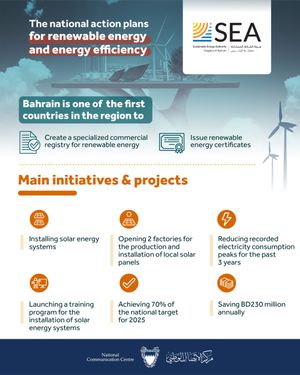 An infographic lists steps taken by Bahrain to adopt clean energy and reduce its peak electricity consumption in the past three years
These green initiatives were among 22 steps proposed within the National Energy Efficiency Action Plan that has set a target of 10 per cent of total energy consumption to be met through renewables by 2035, doubling the 5pc goal by 2025.
This is expected to save energy costs worth BD230 million annually and measures were being taken to diversify the energy mix towards low carbon alternatives.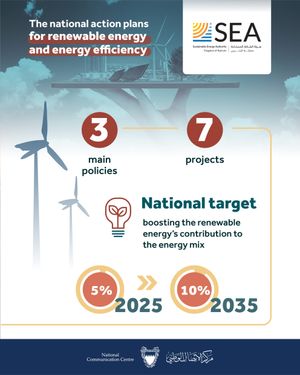 Another inforgraphic shows Bahrain's national renewable energy target
"The use of renewable energy has reduced the peak electricity consumption for the past three years, and we have already achieved 70pc of the national target for 2025," said Dr Mirza.
The GDN reported last month that commercial and residential properties will have energy efficiency ratings based on their actual consumption and green credentials.
The buildings will be assessed by the Sustainable Energy Authority (SEA) before they receive a rating with the aim of making the most cost effective attractive to buyers and tenants.
Plans are also in full force to replace nearly 70,000 street lights and their 400,000 bulbs with LED lights, to help save energy consumption.
Source: https://www.gdnonline.com/Details/942141/GREEN-LINK-Solar-panels-and-wind-turbines-to-power-new-causeway