GCC banks post record high loans growth in Q2
Listed banks in the GCC continued to post robust growth in lending activity during Q2-2021 resulting in record high loan books.
Research by Kamco Invest shows aggregate gross loans at the end of the quarter reached $1.68 trillion, up 4.6 per cent quarter-on-quarter (QoQ) and 7.1pc year-on-year (YoY), after a broad-based growth seen in all the markets.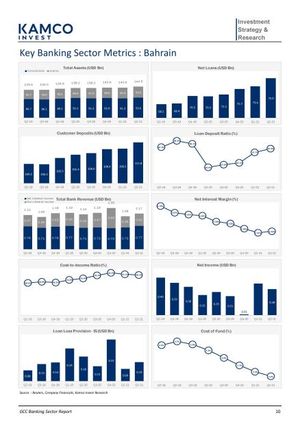 Analysing financials reported by 60 listed banks in the GCC for the quarter ended Q2-2021, a report by the Kuwait-based firm said net loans also showed a similar growth of 4.8pc QoQ to $1.6trn, once again backed by growth in all the markets.
Saudi Arabian banks reported the biggest QoQ increase in net loans during Q2-2021 with a hike of 13.1pc followed by Bahraini banks that clocked a growth rate of 3.4pc.
The trend in customer deposits was also broadly positive in the GCC with five out of six countries recording a QoQ growth during Q2-2021.
Aggregate customer deposits increased by 4.6pc QoQ and 6.1pc YoY to $2trn, a new record high for the GCC banking sector, with Bahraini banks reporting 6.2pc YoY increase in customer deposits.
The aggregate loan-to-deposit ratio for the GCC banking sector remained above the 80pc mark at the end of Q2-2021 to 80.4pc, the highest in the last five quarters, but still below pre-Covid-19 levels.
Total banking sector assets in the GCC continued to show growth reaching a new record high of $2.64trn, registering a growth of 4.7pc QoQ and 6.7pc YoY during Q2-2021.
Loan loss provisions (LLP) showed mixed trends during Q2-2021 but the aggregate for the GCC banks increased by 12.3pc QoQ to $4.1 billion as compared to $3.6bn during Q1-2021.
Bahrain reported marginal absolute increase in provisions during the quarter, whereas UAE, Kuwaiti and Omani banks reported a QoQ decline in provisions booked during Q2-2021.
GCC banking sector net profits remained stable during Q2-2021 after witnessing recovery during Q1-2021 to reach pre-covid levels.
Profits reached $8.3bn during the quarter, up 82.8pc YoY and 0.3pc sequentially.
The YoY growth in profits was seen across the region after record low profits reported last year.
In terms of QoQ growth, Bahrain and Saudi Arabia were the only exchanges that reported QoQ decline in profits while the aggregates for the rest of the exchanges reported growth.
Total operating expenses for GCC banks stood at $8.5bn during Q2-2021 as compared with $8.2bn in Q1-2021.
UAE, Qatar and Omani banks reported a sequential decline in operating costs, whereas Saudi Arabia followed by Bahrain and Kuwait reported higher costs during the quarter.
At the country level, costs remain the highest in the case of Bahraini banks at 60.3pc followed by Omani banks at 47.2pc.
Total revenue for GCC banks increased by 3.5pc QoQ during Q2-2021 after seeing a decline during the previous quarter.
The increase in Q2-2021 was mainly led by higher net interest income that was partially offset by a decline in non-interest income.
Non-interest income declined by 2.3pc QoQ during Q2-2021 to $6.5bn versus $6.7bn during Q1-2021.
The decline was mainly led by decline in non-interest income reported by banks in the UAE and Qatar that was partially offset by higher non-interest income reported by banks in Bahrain and Kuwait.
On the other hand, aggregate net interest income showed a healthy increase of 6.3pc QoQ during Q2-2021 to $15.3bn.
The QoQ growth came as a result of a broad-based increase in net interest income across the six exchanges in the GCC.
The aggregate provision cover (excluding Saudi Arabian banks) that GCC banks made against stage 3 bad loans stood at 66.4pc at the end of Q2-2021.
The provision cover has increased consistently since last year when it stood at 64.7pc (excluding Saudi Arabian banks) and in Q1-2021 at 65.4pc.
Bahraini banks boasted the second-highest cover against stage 3 bad loans in the GCC during the quarter at 69.1pc.
On the policy front, the economic resumption post the Covid-19 restrictions saw several targeted government support programmes announced in the region with an aim to support vulnerable sectors as well as to provide benefits including employment support, start-up ecosystem and sector specific assistance programmes.
"Businesses are also keen on financing new projects with the ongoing low interest rates and the expectation that the rates would remain low till end of 2022," said Kamco Invest's head of investment strategy and research Junaid Ansari.
Source: https://www.gdnonline.com/Details/965040/GCC-banks-post-record-high-loans-growth-in-Q2