GCC banking sector's net profits plummet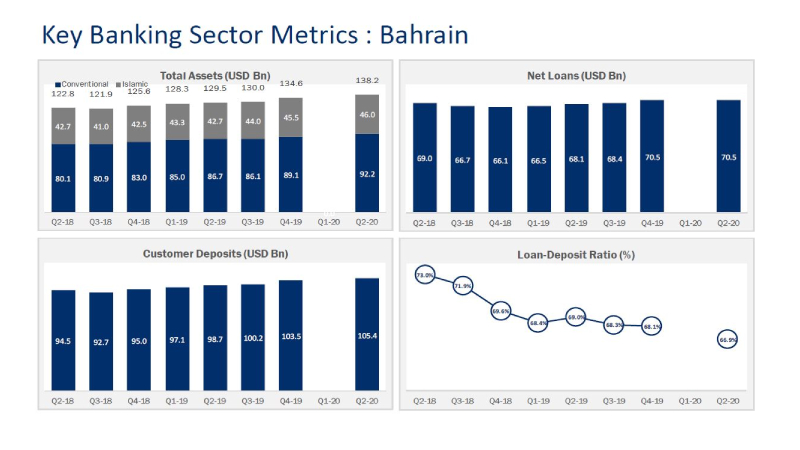 MANAMA: The GCC banking sector has reported a historic decline in net profits during Q2-2020, shows analysis by Kuwait-based Kamco Invest.
A new report by the regional non-banking financial firm shows that the impact of the Covid-19 pandemic was felt across GCC listed banks (excluding Bahraini banks due to lack of quarterly data) which saw the lowest net profits since Q1-2012 at $4.3 billion.
This was a quarter-on-quarter (QoQ) decline of 42.6 per cent and a year-on-year (YoY) decline of 53.2pc.
The decline came mainly on the back of a quarterly loss of $1.83bn reported by Saudi Arabia's SABB during Q2-2020 on the back of goodwill impairment charge it took during the quarter.
Excluding SABB's losses, profit for the GCC Banking sector reached a six-quarter low of $6.1bn.
Profits during the quarter was affected by falling topline for the sector in addition to higher loan loss provisions as banks took covid-19 related provisions.
The report analyses financials reported by 60 listed banks in the GCC for Q2-2020.
Bahraini banks did not report Q1-2020 data, however, there was minimal change in Q2-2020 data for key metrics as compared to year end 2019 numbers.
In order to show trend in growth, Kamco has averaged certain key metrics for Bahraini banks to arrive at Q1-2020 numbers.
The report also aggregates an individual bank's data to the country level.
Meanwhile, net profits for Kuwaiti banks plunged during Q2-2020 by 81.2pc to $110.8 million as compared to $590.5m during Q1-2020.
The decline was even higher in terms of YoY performance at 86.4pc.
In Kuwait, three out of 10 listed banks reported losses during the quarter during Q2-2020 as compared to profits during Q1-2020, whereas the remaining seven banks reported steep QoQ decline in profits.
Loan loss provisions (LLP) continued to rise during Q2-2020 to reach a new recent record of $4.6bn for the GCC banking sector (excluding Bahraini banks), an increase of 10.3pc as compared to the previous quarter.
The sector has taken total provisions of $9.1bn in the first two quarters of 2020 as compared to $12.6bn provisions during full year 2019.
Kuwaiti banks booked the biggest percentage increase in provisions during the quarter aggregating at $1bn, an increase of 78.3pc as compared to Q1-2020.
Total bank revenue for listed banks in the GCC (excluding Bahraini Banks) reached $18.7bn during Q2-2020 as compared to $20.7bn during Q1-2020, a QoQ decline of 9.5pc.
This was one of the steepest declines seen over the last few years that came on the back of a broad-based decline in sector profits.
UAE banks reported the biggest QoQ drop in banking revenues during Q2-2020 at 15pc followed by Kuwaiti banks at 12.2pc.
The decline in revenues came as a result of a decline in both interest income as well as non-interest income.
Aggregate non-interest income declined by 22.2pc QoQ during Q2-2020 to $4.9bn as compared to $6.3bn during Q1-2020.
The decline was led by double digit fall reported by all the five GCC countries led by a fall in capital markets activity during the quarter although equity indices showed positive performance.
Kuwaiti banks reported the biggest decline in non-interest income during the quarter falling by 31.5pc to $0.5bn followed by 28.3pc decline for UAE-listed banks.
A decline in NII coupled with an increase in earnings assets during Q2-2020 resulted in one of the lowest aggregate net interest margins (NIM) for the GCC banking sector.
The aggregate sector NIM reached 3.07pc during Q2-2020 as compared to 3.13pc at the end of last year.
The margin contracted across the board and was once again highest in the case of Saudi Arabian banks at 3.55pc during Q2-2020, a slight decline from 3.66pc in Q1-2020.
UAE banks were next with a NIM of 2.98pc followed by 2.81pc in the case of Omani banks.
Source: http://www.gdnonline.com/Details/851203/GCC-banking-sector%E2%80%99s-net-profits-plummet