Egypt's inflation rate hits highest in 2021 with surging prices
Egypt's inflation accelerated to 5.4 percent year on year in July, compared to 4.9 percent the previous month, the fastest pace of price growth since December 2020.
"This was a more rapid rise than seen in June as month-on-month acceleration rose to 0.9 percent, from 0.2 percent previously. Indeed, this was the fastest pace of price growth since December, and chimes with what we have seen in PMI surveys and the most recent MPC statement last week," Daniel Richards, MENA Economist at Emirates NBD, said.
"The acceleration in inflation has reaffirmed our belief that the Central Bank of Egypt's (CBE) rate-cutting cycle has now ended, with the likelihood being that interest rates will be kept on hold at 8.25 percent for the overnight deposit rate for some time," he added.
Food & beverages prices rose by 4.8 percent year-on-year in July, compared to 3.4 percent in June and 1.7 percent in May.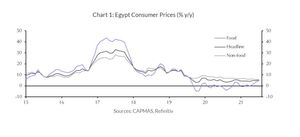 Click on image to enlarge
"The rise in global food prices is putting the government under greater pressure to modernize its subsidy payments, just as it did with fuel subsidies last year. On a related note, the higher oil price will also exert further pressure in the near term," Richards noted.
Purchase prices rose at the slowest pace since March in July. The sub-index remained strongly positive, with firms reporting higher prices for raw materials, shipping and fuel.
The price pressures were very clear in the PMI survey.
The seasonally-adjusted IHS Markit Egypt Purchasing Managers' Index (PMI) fell from 49.9 in June to 49.1 in July, below the 50.0 neutral mark, as output and demand fell for the seventh time in eight months.
"With the New Orders Index falling back into negative territory, it is clear that the economic recovery remains fragile and in need of further supportive measures to strengthen demand," David Owen, Economist at IHS Markit, said.
THE ROAD AHEAD
What are the experts saying about the headline rate over the coming months?
"This inflation rate remains well within the central bank's target range of 7 percent (± 2pp), and we do not expect the CBE to hike in response to this quickening price growth, as it looks to support the economic recovery from the pandemic crisis and help keep government debt servicing costs down," Richards said in his research note.
"Inflation is at the lower end of the central bank's 5 percent to 9 percent target range, and analysts such as those at HSBC Holdings Plc see it remaining at similar levels into next year," Bloomberg reported.
"At the same time, we do not expect any further cuts from the bank [after] the last reduction in interest rates enacted in November," Richards noted.
The inflation rate is likely to drift higher in the coming months, according to London-based Capital Economics.
"Against this backdrop, we think the Central Bank of Egypt will keep interest rates on hold for much of this year despite the weakness of the economy," said James Swanston, Middle East and North Africa Economist at Capital Economics.
Source: https://www.zawya.com/mena/en/economy/story/Analysis_Egypts_inflation_rate_hits_highest_in_2021_with_surging_prices-ZAWYA20210810115622/