EDB to play key role in food security strategy
MANAMA: Bahrain's main investment promotion agency is set to play a key role in the country's food security strategy, its top official has said.
Khalid Humaidan, the chief executive of the Economic Development Board (EDB), an investment promotion agency with overall responsibility for attracting investment into the kingdom and supporting initiatives that enhance the investment climate, told a virtual media briefing yesterday that the importance of food security was put in sharper focus due to the disruptions in global supply chains as a result of the Covid-19 pandemic.
"Bahrain imports most of its food and we realised that local sourcing of staples is a key gap that we would like to address. We will be talking to leading global food producers and processors for setting up manufacturing in the kingdom," he said in response to a question.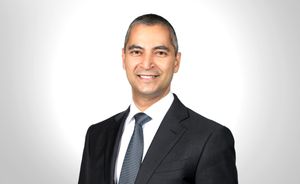 Mr Humaidan
"The EDB works with the government and both current and prospective investors, in order to ensure that Bahrain's investment climate is attractive, to communicate the key strengths, and to identify where opportunities exist for further economic growth through investment."
According to him, the agency focuses on several economic sectors that capitalise on Bahrain's competitive advantages and provide significant investment opportunities.
These sectors include financial services, manufacturing, technology and innovation, tourism, education, healthcare, logistics and transport.
Sharing data on foreign direct investment inflows, he said the country attracted more than $1 billion last year (approximately BD378.5 million), dominated mostly by professional, scientific, and technical activities (BD370.1m), construction (BD148.4m), and the wholesale and retail sectors (BD139.4m).
It was revealed earlier that the investment is expected to create more than 4,300 jobs over the next three years.
Foreign investment from Luxembourg constituted 65.6pc, or BD248.2m of the total, followed by the Cayman Islands with BD93.3m, and India with BD68.6m.
Accumulated investments in the kingdom over the past 10 years continued to grow, with their stock rising by around $1bn annually, said Mr Humaidan.
"FDI stocks currently make up 80pc ($31bn) of our nominal GDP ($38.5bn), a high percentage by international standards and double the world average."
He said: "Bahrain enjoys a diversified economy, with zero corporate tax and 100pc foreign ownership in most sectors, and a 43pc cost advantage over other countries in the region. Our FDI strategy is pinned on a diverse multi-sectoral approach which is showing results and gaining recognition."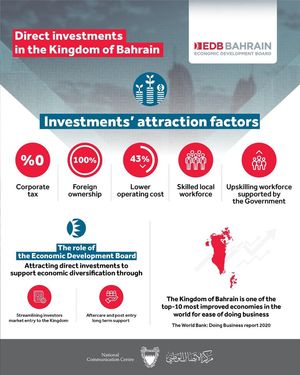 Manama has been named as the fifth globally amongst all-sized cities and first amongst small and mid-sized cities for FDI strategy in the 2021 Global cities of the Future index produced by the Financial Times' fDi Magazine.
"This independent recognition is further confirmation that our board has set the right strategy for us to go forward and they continue to be supportive of our agenda," said Mr Humaidan.
In addition to the kingdom's ranking in FDI Strategy, Bahrain was also ranked highly in cost-effectiveness and business friendliness, being sixth globally and third in Mena, and seventh globally and second in Mena respectively for small and mid-sized cities.
Bahrain has undertaken an ambitious and comprehensive programme of economic reform, which has been further recognised by other independent studies and surveys.
The 2020 World Bank Doing Business Report named Bahrain the fourth most improved country in the world, and research by KPMG in a Cost of Doing Business Report highlighted that Bahrain is between 20-30pc more cost-effective than some of its neighbours across multiple industries.
Source: https://www.gdnonline.com/Details/942906/EDB-to-play-key-role-in-food-security-strategy