Derasat moves up in global ranking
A BAHRAIN-BASED think-tank has moved up in an international survey of more than 6,500 organisations.
The Bahrain Centre for Strategic, International and Energy Studies (Derasat) is ranked 23rd in the 2020 Global Go-To Think-Tank Index released by Pennsylvania University's Think-Tank and Civil Societies Programme (TTCSP).
The centre was added to the index in 2018, when it was placed 42nd regionally, moving up to 31st spot in 2019 and 23rd in 2020 – moving up 19 places in two years, among 500 regional research centres and think-tanks.
Derasat, that was set up in 2009, has also risen among the Arabian Gulf centres from 11th place in 2018 to seventh place in 2020.
The latest index states there are 15 think-tanks or research centres in Bahrain.
"His Majesty King Hamad's sponsorship of scientific and academic research is the biggest incentive in enhancing the role of intellect in decision-making, and institutionalising research work, attributed to Bahrain's openness and liberties," said Derasat's chairman Dr Shaikh Abdulla bin Ahmed Al Khalifa.
He said Derasat's progress in global ranking affirms its role and presence as an esteemed international research establishment that has become instrumental to Bahrain's soft power.
Dr Shaikh Abdulla added that Derasat will continue to work in partnership with the UN and other influential research centres.
Established in 1983, the TTCSP index relies on several criteria: self-generated independent work; contribution to policy development; academic interaction with universities; public-private partnership; degree of influence on decision-making based on the sum of intellectual thought generated; the ability to bridge gaps with other research centres and parties; and the level and range of presence in events and various media.
sandy@gdn.com.bh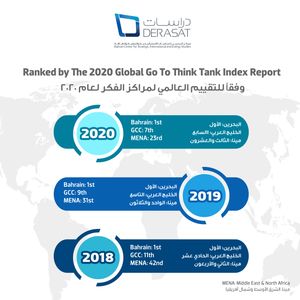 Source: https://www.gdnonline.com/Details/935330/Derasat-moves-up-in-global-ranking