Concern over rise in travel-related cases
BAHRAIN witnessed an alarming 86 per cent spike in travel-related coronavirus (Covid-19) cases in March, compared with the previous two months.
According to official data, 312 people arriving into the country tested positive in January and 313 in February – while 583 infections were registered among visitors last month.
Bahrain Health Ministry's statistics also reveal a steady increase in daily and weekly travel-linked cases in the first quarter of the year.
An average of 19 cases a day was recorded among incoming passengers last month, which was an increase from 11 infections a day in February and 10 in January.
Comparing three weeks from January 7 to March 31, weekly averages were on the upward trend.
An average of 62 cases a week was recorded between January 7 and February 3, which shot up to more than 80 a week from February 4 to March 3 and 137 from March 4 to 31.
The country has been witnessing a spike in Covid-19 infections, with the highest ever of 1,316 cases reported on Saturday.
It comes as the country announced the presence of a new and more infectious strain of the virus first detected in the UK.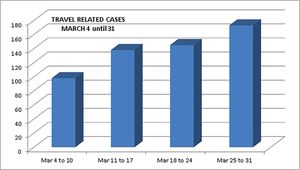 Weekly travel-related cases from March 4 to 31 showing an upward trend
The GDN reported yesterday that 80pc of the daily cases were from this strain, as reiterated by the National Taskforce for Combating Coronavirus monitoring committee head Lieutenant Colonel Dr Manaf Al Qahtani.
Last month also recorded the highest daily average of 708 cases (total 21,960 cases) against 690 a day in February (total 19,338 cases).
Of the total 1,205 travel cases reported since January, 26pc was registered in January, 26pc in February, while 48pc was recorded last month.
Meanwhile, Bahrain achieved its ambitious goal of 300,000 vaccinations in the month of March – two days after the target date of March 31.
A total of 313,274 jabs were administered between March 1 and April 2.
The country has fast-tracked its inoculation campaign with 522,955 taking the first dose until Sunday. Of these, 259,575 have taken both doses of a vaccine. The figures correspond to 37.9pc and 19.45pc respectively of the country's adult population of around 1.3 million.
The GDN reported last month of the country's determination to administer 300,000 shots of Covid-19 vaccines during the month of March.
Health Ministry Under-Secretary Dr Waleed Al Manea announced the campaign on March 1, which meant an average of 10,000 shots had to be given every day.
The vaccination campaign launched on December 17 is set to cover around 679,000 expatriates and 712,000 Bahrainis aged over 18 in up to 300 days, as reported earlier by our sister publication Akhbar Al Khaleej.
Bahrain is the only country in the GCC that offers a choice of five Covid-19 vaccines – Sinopharm, Pfizer/BioNTech, Oxford-AstraZeneca, Sputnik V and Johnson & Johnson. Public can register for the free shot through the website healthalert.gov.bh or through the BeAware application, while those aged 60 years and above need no registration.
Those opting for Sinopharm can go to their health centres, while Sputnik is available at the Bahrain International Exhibition and Convention Centre.
Source: https://www.gdnonline.com/Details/941169/Concern-over-rise-in-travel-related-cases