Building a balanced real estate market
Greater transparency on the available supply of current and proposed building projects, as well as take-up across the kingdom, is being urged by a newly-formed group of commercial property professionals.
The aim is to provide information to potential investors and occupiers so that they are able to make 'properly informed' investment decisions.
The group fears that if not provided, an imbalance between supply and demand might occur, threatening an over-supply of development. This, in turn, risks dramatically falling rents and values which could damage the nation's prosperity.
Supply
The informal group, made up of representatives from some of the most respected Chartered Surveying firms and commercial property managers of global standing, suspect that there may be an imbalance between supply and demand for some sectors of commercial property which could have a 'negative impact' on market rents and values.
"For effective informed investment decision-making there needs to be greater market transparency," a group spokesman said.
Members also highlighted the steps taken overseas to develop property as an investment class. This was achieved as a result of greater transparency of returns performance and benchmarking, like that done by the Investment Property Databank in the UK, Europe and South Africa.
"We would strongly advocate for greater market transparency across the board to hopefully highlight any potential imbalance of supply and demand and its potential impact on property values," the group spokesman added.
"It would highlight any potential discrepancy between development costs and market values."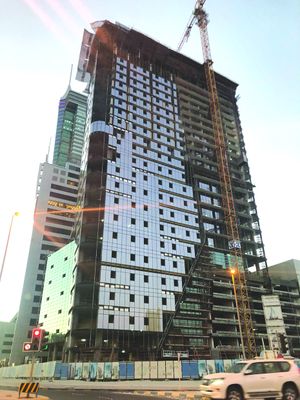 Construction work at the upcoming state-of-the-art, mixed-use development, First Energy Bank Tower
The group highlighted that Bahrain's Real Estate Regulatory Authority (RERA) has already taken steps to introduce this practice following the move to register valuers. Valuers now have to follow ISVA/RICS Valuation – Global Standards ('Red Book Global Standards') mandatory rules and best practice guidance for all members undertaking property asset valuations.
This includes effective commentary on the market at the date of valuation and what factors might affect valuations in the future.
Members expressed concern that without effective data on demand and supply, this could lead to a 'build on, regardless' policy which might only benefit development professionals and the construction sector, rather than their clients.
They are less likely to be concerned about market demand and supply as they are used to moving on from one project to another project, once the construction phase has been completed.
The group members, who have international experience from a variety of markets, are keen for Bahrain to join other Gulf countries in fully sharing market data.
Suggestions
The MSCI Emerging Market Index, for example, includes information from the UAE, Qatar and Saudi Arabia. MSCI is a leading provider of critical decision support tools and services for the global investment community enabling clients to understand and analyse key drivers of risk and return.
Other issues the group has identified that could benefit from a wider discussion include:
1. Greater supervision of construction contractors and their subcontractors to prevent misuse of public spaces and infrastructure.
2. Greater transparency of planning and building permit application processes to enable third party stakeholders to make justified contributions to proposed development applications.
3. Property market data collected by municipality authorities including information on new development projects for which building permits have been granted and new leases granted. It could easily provide detail on the amount of space sold or leased to enable adequate market commentaries and analysis to be included in valuation reports to meet ISVA/RICS Valuation Red Book requirements.
Members of the group have commended the 'good work already carried out' by RERA set up to help real estate professionals' transition to the new regulatory standards in the kingdom.
RERA is working closely with government and industry stakeholders to oversee the development of a National Real Estate Policy supported by a national five-year sector strategy and plan to bolster the real estate sector, improve consumer protection and streamline real estate services in Bahrain.
The authority has recently flexed its muscles over concerns surrounding the Golden Gate property complex at Bahrain Bay which is currently on hold with cases going through the courts.
"The new standards set out by RERA are an excellent step in the progress towards a more open and transparent property market," a group spokesman added.
"While many larger organisations have gone through the steps of getting a RERA licence, many still exist in the market without a RERA licence, including property owners who manage their own property.
"I think the approach should focus on incentivising individuals to join and register by showing the benefits and creating a community around the different professions within the property sector.
"This then gives RERA the ability to tap into the knowledge and on-the-ground experience of the people in the market through webinars and other means to help shape the future of the local property market."
Some might say that the commercial property professionals group has no need to worry as plentiful space availability and lower rental prices than its Gulf rivals make Bahrain a more attractive proposition to companies wanting to relocate.
However, its members believe that 'informed decision making' would be achieved through greater availability of data so that a 'build, build, build' mentality without any concern for potential over development can be avoided.
Source: https://www.gdnonline.com/Details/935119/Building-a-balanced-real-estate-market