Booster jabs drive gains momentum
Booster jab delivery is in full swing as green shields on the BeAware application turn yellow prompting people to make sure they remained on the path to normality post-pandemic.
The team at the National Taskforce for Combating Covid-19 has been prompt in its response – with those registering receiving text messages confirming their appointment for their shots within hours.
The GDN reported earlier this month that the colour of the shield on the app would automatically change from green on Sunday (the colour indicating those who had completed two weeks from a second vaccine dose – the ideal span to acquire the desired immunity against the infection) to yellow, as a notification for all those who are eligible to receive a booster.
Register
The Health Ministry assured that it will turn green again after taking the third dose, calling on eligible people to register via healthalert.gov.bh, or BeAware.
Residents told the GDN that they were impressed at the 'prompt' response to the registration adding that the process was incredibly quick. "I registered on Saturday evening and I got a message in an hour, with an appointment scheduled for 12.30pm the next day at Sitra Mall," said one Indian resident.
"The entire process was over in five minutes – there were volunteers to assist the people to the nurse who administered the dose."
He added that his green shield had turned yellow prior to taking the dose but was reinstated in a couple of hours.
The green shield is a passport to enter several public places, including cinemas, indoor events and conferences and to attend indoor sporting events.
It is also part of the green level protocols currently adapted in the country since September 3 – the lowest alert level within the Covid-19 Alert Level Traffic Light System – based on positivity rates – the rolling average percentage of positive cases out of tests carried out is below two per cent for 14 days.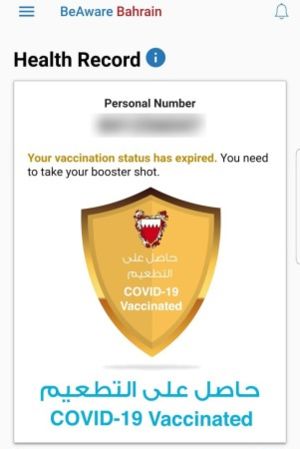 The colour of the shield on BeAware app will automatically change from green to yellow as a notification to receive a booster dose
An Egyptian man said that he registered on the BeAware app on Sunday after seeing his shield turn yellow.
"In fact it had skipped my mind that I completed six months and I was due for a booster shot," he said. "My green shield turned yellow and I immediately registered and got a message within an hour," said the 33-year-old.
He took his dose, along with three friends who also registered on Sunday, at the Shaikh Sabah Al Salam Health Centre, Umm Al Hassam yesterday.
"The entire procedure was smooth and streamlined," said another Indian expatriate. "They gave us tokens and checked the message for the appointment prior to injecting and then recorded it in the vaccination book."
The Health Ministry on Friday released an infographic detailing the eligibility for booster shots. The country offers free vaccinations and booster shots for its people who can choose from Sinopharm, Pfizer-BioNTech, AstraZeneca Covishield and Sputnik V.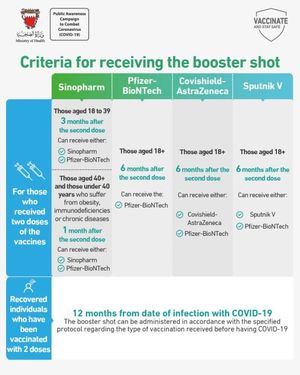 An infograph on the criteria for receiving the booster shot
Antibodies
Vaccination produces an initial surge in the number of immune cells churning out antibodies and other molecules, which then slowly drops. This leaves behind a small pool of long-lasting 'memory' B and T cells that patrol the body for future infections by that pathogen.
A booster does several things to these cells, experts say. It causes antibody-making B cells to multiply, elevating the levels of antibodies against the pathogen once more.
In time, their numbers will dwindle again, but the pool left behind will be larger than before, leading to a faster, stronger response to subsequent exposures.
A total of 319,429 people have taken their booster shots which accounts for 22 per cent of the total estimated population of 1.5m in Bahrain. It equates to 25pc of the estimated eligible population which stands at 1.26m, and includes everyone aged above 12 and children aged three to 11 who have underlying health conditions.
As well as Sitra Mall, people are being assigned various places to receive the treatment, including the country's 31 health centres and King Hamad University Hospital.
Bahrain is also closing in on 'herd immunity' with almost 75pc of its population vaccinated against Covid-19. 'Herd immunity', also known as 'population immunity', is the indirect protection from an infectious disease that happens when a population is immune either through vaccination or immunity developed through previous infection. Experts estimate that 'herd immunity' would require around 80-90pc of the population to have Covid-19 immunity.
The national vaccination campaign, launched on December 17 last year, has covered 1,122,149 people (75pc) with two doses of a vaccine as of Sunday and 1,166,068 people (77.7pc) have taken at least one dose of a vaccine.
The numbers account for 89pc of the eligible population fully vaccinated and 92.5pc vaccinated with at least one dose.
raji@gdn.com.bh
Source: https://www.gdnonline.com/Details/979090