Bahrain's social welfare plans a role model says minister
BAHRAIN'S social protection plans – that cover people of determination, children and the elderly – are a role model for the region and recognised by international groups, stated a top minister.
Labour and Social Development Minister Jameel Humaidan said dedicated centres dotted across the country are helping and training vulnerable groups in society.
"Over the years, Bahrain has succeeded in implementing plans for the vulnerable segments of society who are also a key contributor to the national development," said Mr Humaidan.
"For example, children with special needs are provided with education, health services and rehabilitation as part of their integration in society, while for the elderly we have 14 clubs to ensure they are not isolated.
"Bahrain is a regional model when it comes to welfare and protection programmes for children, special needs and the elderly."
The minister was speaking during a webinar yesterday organised by the Foreign Ministry and chaired by Minister Dr Abdullatif Al Zayani, as part of the eighth consultations of the National Human Rights Action Plan (NHRAP).
Elaborating further on Mr Humaidan's comments, the Labour and Social Development Ministry's Non-Governmental Organisations director Najwa Janahi said monthly allowances are disbursed to the special needs people as part of the protection programme.
"There are 41 centres including 11 non-profit groups that provide care and rehabilitation to the special needs people, focusing on their health and training that covers about 500 students," said Ms Janahi.
"The ministry has allocated a budget of BD200,000 for these centres to carry out their activities which include integrating special groups in the labour market, with the latest statistics showing that 229 disabled people found new jobs and some of them became entrepreneurs."
Ms Janahi called on the private sector to ensure all offices and facilities are special needs friendly.
In his opening remarks, Dr Al Zayani stated Bahrain has several legislations to protect different segments of the society.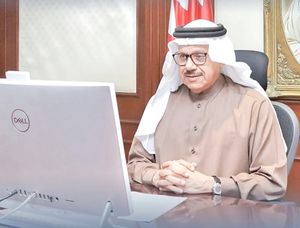 Dr Al Zayani addressing the webinar
"The government believes and provides sustainable development when it comes to the protection of the child, those with special needs and the elderly," he said.
The workshop titled 'The rights of vulnerable groups in the National Action Plan on Human Rights' was attended by Youth and Sports Affairs Minister Ayman Almoayyed, international experts, Bahraini legislators, representatives from different ministries and civil societies.
Mr Almoayyed said his ministry had partnered with other ministries to help people with special needs, pointing out that the Bahrain Paralympic Committee had supported athletes who won gold medals in international competitions.
"We have to provide special care and importance to youths aged between 15 and 26 by developing their skills in line with the UN Sustainable Development Goals," he said.
The virtual meeting, which saw a participation of 125 people, was moderated by Assistant Foreign Minister Abdulla Al Doseri who said the feedback from the consultations would be used to prepare the NHRAP draft which will then be submitted to the Cabinet.
The consultations are aimed at engaging all stakeholders in formulating a strategy to protect social, cultural, economic, civil and political rights.
Bahrain is the first GCC country to work on a NHRAP strategy, with UAE announcing similar consultations last month.
Source: http://www.gdnonline.com/Details/923666/Bahrain%E2%80%99s-social-welfare-plans-a-role-model-says-minister