Bahrain updates Covid-19 isolation protocol
BAHRAIN has updated its Covid-19 isolation protocol by lifting the mandatory seven-day quarantine for the infected.
Starting from tomorrow (April 7), individuals with active Covid-19 can end their isolation period earlier than advised, on obtaining a negative lab result after conducting a PCR test at a private hospital.
The decision was announced last night by the National Taskforce to Combat Covid-19.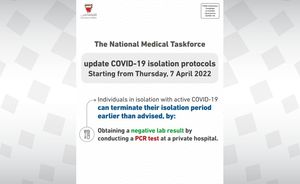 Source: https://www.gdnonline.com/Details/1048744/Bahrain-updates-Covid-19-isolation-protocol