Bahrain tops GCC in economic freedom
Bahrain has topped the GCC in a list of the most economically-free countries in the world.
Taking the 65th place in the latest annual Economic Freedom of the World index by the Fraser Institute prepared on the basis of 2019 data, the kingdom ranks higher than UAE (67th), Qatar (80th), Saudi Arabia (91st), Kuwait (98) and Oman (102nd).
Bahrain is also the third highest in the wider Middle East and Africa region after Israel (43rd) and Jordan (50th) in the report which analyses the policies and institutions of 165 countries to gauge the ability of individuals to make their own economic decisions.
Indicators include regulation, freedom to trade internationally, size of government, property rights, government spending and taxation.
Bahrain ranked 85th in size of government, 107th in legal system and property rights, 71st in sound money, 43rd in freedom to trade internationally, 48th in overall regulation, 22nd in labour market regulations and 39th in business regulations.
Size of government focuses on how government expenditures and tax rates affect economic freedom. Countries with lower levels of government spending, lower marginal tax rates, and less government investment and state ownership of assets earn the highest ratings in this area.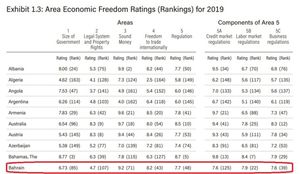 Legal system and property rights focuses on the importance of the legal system as a determinant of economic freedom. The key ingredients of a legal system consistent with economic freedom are rule of law, security of property rights, an independent and unbiased judiciary, and impartial and effective enforcement of the law.
Sound money focuses on the importance of money and relative price stability in the exchange process. Money with relatively stable purchasing power across time reduces transaction costs and facilitates exchange, thereby promoting economic freedom.
Freedom to trade internationally focuses on exchange across national boundaries. In order to get a high rating in this area, a country must have low tariffs, easy clearance and efficient administration of customs, a freely convertible currency, and few controls on the movement of physical and human capital.
Regulation measures how regulations that restrict entry into markets and interfere with the freedom to engage in voluntary exchange reduce economic freedom.
Globally, Hong Kong again ranks 1st followed by Singapore, New Zealand, Switzerland, Georgia, the United States, Ireland, Lithuania, Australia and Denmark.
People living in countries with high levels of economic freedom enjoy greater prosperity, more political and civil liberties, and longer lives.
"Where people are free to pursue their own opportunities and make their own choices, they lead more prosperous, happier and healthier lives," said Fred McMahon, Dr Michael A Walker research chair in economic freedom at the Fraser Institute.
Source: https://www.gdnonline.com/Details/977582/Bahrain-tops-GCC-in-economic-freedom