Companies news
Bahrain set to post fiscal surplus
MANAMA: Bahrain's fiscal balance should swing back to surplus this year, beating the target of achieving balance by 2024, says a new report from NBK.
The 'Macroeconomic Outlook 2022-2023' for Bahrain from the largest financial institution in Kuwait states that higher oil revenues would likely enable the government to record its first fiscal surplus in 14 years in 2022, beating its pandemic-delayed target of balancing the budget by 2024.
While recognising that Bahrain is one of the Gulf region's most diversified economies, NBK proposes that it could benefit even more than others from higher oil revenues given its particular financial vulnerabilities that the Fiscal Balance Programme (FBP) aims to address.
The government's revised targets under the FBP were based on a projected oil price of $60/bbl in 2022-24, which the bank now considers too pessimistic.
It sees the budget swinging from a deficit of 3.7pc of GDP in 2021 (government definition) to a small surplus this year and next.
Along with the jump in oil revenues, non-oil receipts will be boosted to around 6.2pc of GDP in 2022-23 (3.4pc in 2018) by the impact of higher VAT and enhanced revenue collection.
The government also looks set to stick with FBP initiatives of rationalising spending including reducing manpower and streamlining subsidies, reinforcing its commitment to reform.
Bahrain is targeting spending of 20pc of GDP by 2024, down from a recent peak of 28.7pc in 2020.
These steps have helped to stabilise the country's credit rating (S&P: B+, Fitch: B+).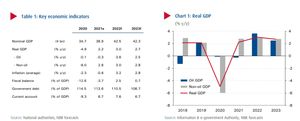 NBK says given the improving fiscal position and higher GDP base, the government's aim of stabilising then reducing debt to GDP from 115pc in 2020 now looks very achievable.
Ongoing progress on FBP-related reforms will trigger further disbursements of the $10bn aid programme from Gulf neighbours agreed in 2018, supporting liquidity.
The government announced an ambitious $30 billion reform and development plan in late 2021 which will underpin the medium-term outlook of the kingdom and successful reform execution could lift economic growth and the credit rating.
NBK projects growth of 3 per cent in 2022 for Bahrain, which grow 2.2pc last year.
The expansion will power GDP above pre-pandemic levels due mainly to a post-Covid-19 rebound, ongoing aid from GCC neighbours and rising oil output.
Meanwhile, there has also been a major improvement in the external position, with the current account recording its first surplus in seven years last year at 6.7pc of GDP, driven by a surge in aluminium and iron exports and a recovery of inbound tourism.
Overall, NBK expect the current account to remain in comfortable surplus during the forecast period.
This will help replenish the central bank's foreign reserves which stood at $4.3bn in February 2022 (less than three months of imports), and improve resilience against any further external shocks.
Source: https://www.gdnonline.com/Details/1071722/Bahrain-set-to-post-fiscal-surplus