Bahrain pioneers blockchain-based platform for investing in hard assets
MANAMA: Bahrain has become the first in the world to allow trials of a blockchain-based platform for easy investment in infrastructure projects.
Having got the nod from the Central Bank of Bahrain (CBB), UK-headquartered Fasset announced its solutions for the tokenisation of hard assets would be tested in the kingdom's fintech regulatory sandbox.
Fasset has developed an Ethereum-based operating system and aims to address climate change acceleration by bridging the sustainable infrastructure funding gap estimated by the World Economic Forum to reach $15 trillion by 2040.
Experts define a blockchain is a tamper-proof digital record of transactions, which reduces risk, stamps out fraud and brings transparency, whereas Ethereum is the second-largest cryptocurrency platform by market capitalisation, behind Bitcoin.
Through its two flagship products – Fasset Enterprise Platform (FEP) and Fasset Exchange (FEX) – the fintech firm aims to increase investor exposure to assets that were previously illiquid, inaccessible, or had high barriers to entry.
Simultaneously, asset owners can bypass costly middlemen to directly list their assets on an exchange, gain faster access to liquidity and court a wider base of like-minded investors.
FEP provides a tokenisation service for sustainable infrastructure assets – 'fractionalising' or breaking down large assets into smaller 'pieces' or tokens using blockchain technology.
FEX is a platform where these tokens can be traded.
A report published by CoinDesk, a news site specialising in bitcoin and digital currencies, last week said FEX has opened up private beta testing of its cryptocurrency trading platform with a public rollout planned for later this year.
The platform will not levy trading fees and will only charge consumers for services like withdrawal and over-the-counter fees, the report said. Fasset has raised some $4.7 million in pre-seed investment from strategic backers in the UAE, Saudi Arabia, Bahrain, Kuwait, and Singapore.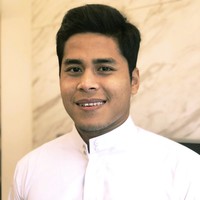 Mr Zainuddin
Hailing the CBB for fostering "a supportive setting for startups to flourish and build impactful companies of the future", the fintech firm's chief product officer Aziz Zainuddin said, the approval is "a testament to the pioneering and pro-innovation spirit of Bahrain, where ideas for tackling the world's most pressing issues based on even the most cutting edge technologies are given the opportunity to take flight."
The authorisation was also proof of the progress the Ethereum developer community had made to earn the trust of regulators worldwide, he added.
Ms Buhejji
Fasset's entry into the kingdom was facilitated by the country's main investment promotion agency, the Economic Development Board (EDB), whose director of business development for financial services Dalal Buhejji said: "Bahrain's forward-thinking regulatory approach provides an attractive environment for fintech companies to reap the benefits of our agile economy, with availability of the most skilled and diverse workforces and the best value operating costs in the region."
Source: http://www.gdnonline.com/Details/873264/Bahrain-pioneers-blockchain-based-platform-for-investing-in-hard-assets--