Bahrain nears herd immunity
BAHRAIN is inching towards the much-desired 'herd immunity' with more than 70 per cent of its population vaccinated against the coronavirus (Covid-19).
'Herd immunity', also known as 'population immunity', is the indirect protection from an infectious disease that happens when a population is immune either through vaccination or immunity developed through previous infection.
WHO supports achieving 'herd immunity' through vaccination, not by allowing a disease to spread through any segment of the population, as this would result in unnecessary cases and deaths.
Experts estimate that 'herd immunity' would require around 80-90pc of the population to have Covid-19 immunity, either through prior infection or vaccination.
Bahrain would require to cover an estimated 1,200,000 people with two doses of a Covid-19 vaccine to achieve 'herd immunity'.
The national vaccination campaign, launched on December 17 last year, has covered 1,096,582 people with two doses of a vaccine as of Saturday. This accounts for 73pc of the total population of 1.5 million; 1,155,692 people (77pc) have taken at least one dose of a vaccine.
The numbers account for 87pc of the eligible population fully vaccinated and 92pc vaccinated with at least one dose.
The estimated eligible population stands at 1.26m, and includes everyone aged above 12 and children aged three to 11 who have underlying health conditions.
According to a latest study published by the Centres for Disease Control and Prevention (CDC), people who were not fully vaccinated were more than 10 times more likely to be hospitalised, and 11 times more likely to die of Covid-19, than those who were fully vaccinated.
The study also highlighted the continued efficacy of three vaccines – Moderna, Pfizrer/BioNTech and Johnson & Johnson – amid the spread of the highly contagious Delta variant, which was dominant in Bahrain during May and June.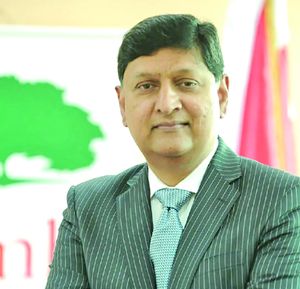 Dr Cheriyan
"There is no excuse for anyone in Bahrain to add to the burden of the health service by not getting vaccinated," said American Mission Hospital corporate chief executive Dr George Cheriyan.
Bahrain offers free Covid-19 vaccination to all residents and citizens and provides them four choices – Sinopharm, Pfizer-BioNTech, AstraZeneca-Oxford and Sputnik V – while the country has also approved the single shots from Johnson & Johnson and Sputnik Light which are yet to be rolled out.
Dr Rao
Royal Bahrain Hospital internist Dr Sunil Rao also endorsed Bahrain's "brisk" vaccination programme.
"It is established all over the world that severe Covid-19 illness requiring admission to hospital, artificial ventilation and death is seen predominantly in the unvaccinated people."
The kingdom so far has vaccinated more than 80pc of people aged above 40 with a booster shot as an extra measure of protection against the infection.
Choice
Following this, the government has relaxed Covid-19 restrictions with Bahrain entering the green level – the lowest alert level under the Covid-19 Alert Level Traffic Light System.
Bahrain offers a choice of Pfizer/BioNTech and Sinopharm booster shots to people aged 50 and above, who have completed three months after taking the second dose of Sinopharm, while others can take it after six months.
Children aged from three to 11 who suffer from underlying health conditions, and everyone in the 12-17 age group can take Sinopharm.
Bahrain has also booster shots for those who have completed six months after receiving both doses of the Pfizer-BioNTech or AstraZeneca vaccines.
Eligible groups include those aged 60 and above, and those who are immunocompromised.
Additionally, a research aimed at studying the effectiveness of booster shots for individuals who have received both doses of Sputnik V vaccine is planned.
Source: https://www.gdnonline.com/Details/976806/Bahrain-nears-herd-immunity