Bahrain eyes spot among world's top 20 in logistics
A new strategy aims to position Bahrain among the top 20 countries worldwide in terms of logistics and link the country to more than 70 destinations by direct flights, raising the sector's contribution to national GDP to 10 per cent by 2030, Transportation and Telecommunications Minister Kamal Ahmed has said.
The plan which is based on updating laws, regulations and procedures as per global best practices and market needs; developing infrastructure, including the sea port and airport; providing incentives for investors; strengthening international engagement and promoting investment also aims to increase air freight capacity to one million metric tonnes and expanding the capacity of the Khalifa bin Salman Port (KBSP) to handle one million containers annually.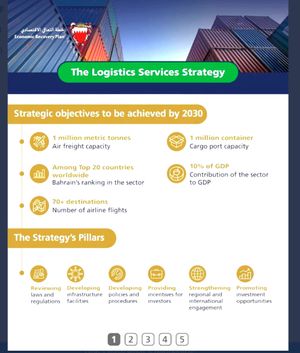 Addressing a Press conference on the kingdom's new logistics strategy yesterday, Mr Ahmed said Bahrain launching the fastest regional multi-modal logistics hub in the region last month was a key milestone in the strategy.
The Bahrain Global Sea-Air Hub relies on streamlined clearance procedures, optimised logistics, and full digitisation to achieve an end-to-end lead time of just under two hours for goods transiting from Bahrain International Airport (BIA) to KBSP, which means products can be with customers in half the time and at 40pc of the cost.
Another key project, said the minister, is BIA's new cargo area spanning 25,000sqm, the main construction contract for which will be awarded in the next few weeks and the project is expected to be ready by 2023.
"This will double the airport's capacity to accommodate larger volumes and flows of air cargo traffic and e-commerce shipments, while meeting the highest industry standards," he said.
"Its development also supports government-led efforts to transform logistics and air cargo into one of Bahrain's primary industries."
FedEx signed a 10-year contract with the Bahrain Airport Company last month for the operation of a 9,000sqm facility at the new cargo area, which Mr Ahmed said was first among many strategic partnerships planned with other multinational logistics providers.
As per the Bahrain Economic Quarterly report from the Finance and National Economy Ministry, despite the effect of the pandemic the transport and communications sector saw an 8.2pc increase in the first quarter this year when compared with Q4 2020.
Bahrain's non-oil GDP year-on-year growth reached 7.8pc in Q2 in 2021.
The operating cost within the logistics sector is 45 pc lower in Bahrain compared to neighbouring markets, as per KPMG 2019 report "Cost of Doing Business in Logistics".
Also speaking during the conference was Customs Affairs president Shaikh Ahmed bin Hamad Al Khalifa, who said that as a part of the logistics services strategy, the new 'Truck Management System' project is aimed at preventing traffic congestion, reducing waiting time, increasing port control, improving operational efficiency and easing customs procedures for trucks crossing the causeway.
"As a part of the project, connecting the Ofoq customs clearance system to the 'Fasah' platform would enable booking of online appointments for outgoing trucks. This would also entail connecting vehicle plates to a smart reader when entering and exiting and provide reports to measure performance indicators," he said.
Shaikh Ahmed said the strategy also features a plan to develop the system into a blockchain-based portal called Ofoq 2 for managing various government procedures.
The project aims to achieve electronic integration through the exchange of data among customs systems and offering all related online services.
In 2020, the authority automated data collection and installed AI-scanners that allowed shipment inspections to take place before cargo reaches the border.
A key highlight noted Shaikh Ahmed was the launch during the Jewellery Arabia exhibition of Maarud, which means exhibitions in Arabic, as a new customs services app.
"This app is the first of its kind worldwide and aims to serve exhibitors attending exhibitions. The app saves lots of time as exhibitors need to go back and forth with the customs authorities, when they make any transaction," he explained.
"Secondly, it gives us as officials the monitoring capability on all sales that are happening live."
According to him, the app has been upgraded to enable support for more than one exhibition at the same time, in terms of sales transactions.
"So it is preparation for the new exhibition centre in Sakhir and even more remarkable is the fact it was developed in-house by two female employees and did not cost us a penny," he said.
Source: https://www.gdnonline.com/Details/1013924/Bahrain-eyes-spot-among-world%E2%80%99s-top-20-in-logistics