Bahrain eyes new medical investments
BAHRAIN is eyeing investors in healthcare services like medical laundry, catering and waste management post pandemic.
National Health Regulatory Authority (NHRA) chief executive Dr Maryam Al Jalahma said investment milieu in the kingdom was ideal with the country ranking high in a number of global indices.
Medical laundry and catering along with training for medics in select specialities could be the future choices of investors in Bahrain, Ms Jalahma told the GDN during an official interaction.
In her presentation, at the virtual 2021 Bahrain-Korea Medical Partnership webinar, Dr Al Jalahma also highlighted other areas that could be explored for investment – especially drug and medical device manufacturing, rehabilitation, alternative medicine, psychiatry and sport medicine.
"Investment avenues in Bahrain are changing – it is no longer only in terms of setting up hospitals, we have factories – one for medical masks and two for medicines as well," said Dr Al Jalahma.
"We are looking forward to a factory for vaccines, while we aim to move towards medical devices.
"These are all good investments in Bahrain in line with the government's vision.
"What I would encourage is private sector's participation in imparting quality training. There are some health specialities like infection control and sterilisation, which can be provided by the private sector.
"I think they should not only think in terms of setting up buildings, but also focus on training support, as well as services like medical laundry, catering and waste management."
The GDN reported that Bahrain opened its first local factory for medicines earlier this year, while in October the NHRA granted a licence to Aegis Medical to operate its 750sqm face mask factory, the first-of its kind in the country. The factory in Hidd has already started producing 'Made in Bahrain' quality N95 and 3 PLY masks to meet the soaring local demand in the wake of the Covid-19 pandemic.
Bahrain has also announced plans to set up a factory to manufacture Russian vaccines, starting with Sputnik V to tackle Covid-19.
Dr Al Jalahma also highlighted opportunities to invest in telemedicine, which has proved to be a success in Bahrain.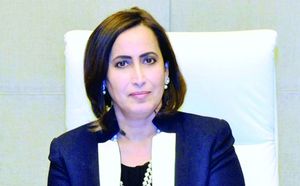 Dr Al Jalahma
"We have licensed telemedicine centres in Bahrain which have helped during Covid-19 through online consultation, radiology treatment and others.
"One good thing about tele-radiology is that you don't need a consultant specialist of every type – it can just be a centre with all consultants, who could be from different countries like our neigbouring Saudi Arabia. They can read X-rays for a patient.
"We are working on this as well with local consultants in Bahrain."
NHRA approved telemedicine – the practice of caring for patients remotely when the provider and patient are not physically present in front of each other – as early as in November with centres being licensed to operate.
A study by the Bahrain Centre for Strategic, International and Energy Studies (Derasat) also showed that government agencies across the region, including the Health Ministry and the NHRA, have played a key role in driving healthcare providers to offer telemedicine services, which include the delivery of remote clinical services – from teleconsultations through to online prescriptions – via computer and smartphone.
Meanwhile, Dr Al Jalahma stressed the features that make Bahrain a chosen destination for investment in healthcare.
"We have one of the highest qualities of life in the Middle East. We also have a young, educated, bilingual local workforce.
"Bahrain boasts a 40-year track record as the Gulf's leading financial centre.
"It provides access to a regional market of 1.5 billion people, Arab countries with 300 million population and a GCC market of 40m people.
"It is a pioneer in the Gulf region, ranking fourth in terms of cost of living in the Middle East and has the highest level of economic freedom in the Middle East and Mena region, according to the Heritage Foundation Economic Freedom Index 2016.
"We offer tax-free business and government subsidies to contribute to businesses."
Source: https://www.gdnonline.com/Details/951991/Bahrain-eyes-new-medical-investments