Bahrain 'best place in region for expats'
BAHRAIN is the best place in the Middle East and North Africa region.
The kingdom is once again the highest-ranking Gulf and Arab country for expatriates to live and work in, according to a new index.
The country is ranked 12th out of 59 destinations in the latest Expat Insider 2021 survey conducted by InterNations, the world's largest expatriate online networking community.
Despite its ranking slipping from the heady heights of sixth spot last year, Bahrain remains the only Gulf country to be ranked among the top 15 countries.
It has performed way better than the US, the UK and several Scandinavian countries.
In addition, three in 10 respondents said they want to continue to stay in the kingdom despite pandemic pressures and they all praised its health care system.
Taiwan, Mexico and Costa Rica were ranked as the top three expat destinations, based on ease of settling in and good personal finances.
Bahrain leads among Gulf and Arab countries followed by Qatar (17), UAE (18), Oman (24), Saudi Arabia (42) and Kuwait (59).
For the seventh time in eight years, Kuwait comes bottom of the list, after Italy and South Africa. The survey covered 12,420 expats representing 174 nationalities and living in 59 countries.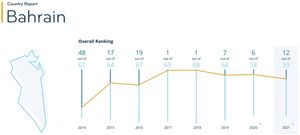 An infographic shows Bahrain's rankings. Despite dropping from sixth spot last year to 12th in 2021, it still has the highest ranking among Gulf and Arab countries
The five main parameters used in the survey were: quality of life (Bahrain scored 27 out of 59), ease of settling in (5), working abroad (15), personal finance (29) and cost of living (26).
The cost of living covers basic expenses such as housing, food, taxes, and healthcare.
"Expats in Bahrain find it easy to settle in and are happy with their local career opportunities," stated the index. "Most expats (87 per cent) find it easy to live in Bahrain without speaking the local language (vs 54pc globally)." Moreover, 77pc of expats feel at home in the local culture (vs 63pc globally), and 70pc say it is easy to settle down in Bahrain (vs 62pc globally).
"The people – locals and expats – are among the highlights of living in Bahrain," a German expatriate based in Bahrain mentioned in the report.
Furthermore, more than half the expats in Bahrain (55pc) have a social circle that consists of both expats and locals (vs 48pc globally), but another 40pc are mostly friends with other expats (vs 32pc globally).
Expats have praised the good career opportunities in Bahrain with 54pc of them happy with those opportunities – almost 10 percentage points more than the global average (45pc). "Bahrain offers an equal opportunity to everyone who wants to succeed and develop in any field of life or work," added a Pakistani expat based in Manama. "This is the place for anyone to try their luck."
However, the report pulls up Bahrain for its poor performance in the Quality of Environment (43rd) and Leisure Options (42nd) subcategories.
"In fact, 24pc of expats are unhappy with the natural environment (vs 8pc globally), and 17pc are dissatisfied with the local leisure options (vs 14pc globally)," the report stated.
On the upside, most expats are happy with the availability of government services online (83pc), the country's political stability (84pc) and the quality of medical care in Bahrain (81pc).
With regard to the financial aspects of expat life, exactly half the expats (50pc) rate the cost of living positively, while 66pc of expats are generally satisfied with their financial situation , and 31pc say their disposable household income is not enough to cover all expenses.
"In fact, 46pc of expats in Bahrain have an income of up to $25,000 per year (vs 30pc globally), while just 8pc of respondents report an annual income ranging from $25,000 to $50,000."
The report mentions the Covid-19 impact on expat life in Bahrain.
"Three in 10 respondents (30pc) are planning to stay in Bahrain rather than move home in the near future, which is about 10 percentage points above the global average (18pc)," added the report.
"Another 14pc plan on moving to another foreign country or back home."
However, just 5pc were planning to move to another country and had to cancel these plans due to the pandemic.
"Covid-19 has had the biggest impact on the work or business of expats in Bahrain (25pc vs 20pc globally), followed by their personal travel (21pc vs 28pc globally), and their social life (18pc vs 24pc)," the report mentions.
The majority of expats (85pc) stated they were satisfied with the official communication in Bahrain regarding the pandemic and related regulations.
What is more, 75pc received their information through official government channels, which is a much higher share than the global average (48pc).
Source: https://www.gdnonline.com/Details/945293/Bahrain-%E2%80%98best-place-in-region-for-expats%E2%80%99