Artificial wetlands 'can relieve water stress'
BAHRAIN could create artificial wetlands to treat and reuse produced water – a by-product of the oil extraction process.
The Oil Ministry is investigating the project's potential, said Bahraini water resources specialist and Arabian Gulf University (AGU) faculty Professor Dr Walid Zubari.
Produced water (PW) is water that is brought to the surface during oil and natural-gas production. It contains heavy metals, greases and chemical additives. Currently, many GCC countries are recycling and reusing this water in the production process for enhanced oil recovery.
Prof Zubari, however, said smart use of PW can help reduce the water stress of GCC countries.

An artifical wetland is a likely solution for Bahrain to overcome the increasing challenge of ground water mixed with oil, says expert
Constructed wetlands could be the key, he added.
A constructed or engineered wetland is an artificial shallow basin filled with substrate – usually soil or gravel – and planted with foliage that can withstand saturated conditions. It is opted as a solution to treat sewage, greywater, stormwater runoff or industrial wastewater as they are designed to remove pollutants such as suspended solids, organic matter and nutrients.
Prof Zubari was speaking to the GDN after a symposium on 'Management of Water Associated with Oil', a virtual forum organised by the Gulf Water Science and Technology Society (GWSTS) in partnership with the Omani Water Society.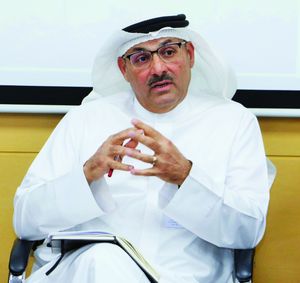 Prof Zubari
It was co-ordinated by Oman Water Society representative Dr Rashid Al Abri who highlighted the latent environmental challenge posed by produced water, especially in the Gulf.
Prof Zubari, who heads GWSTS scientific committee, pointed out that the concern was increasing in the GCC with the oil fields ageing.
"With the ageing of the oil and gas fields, ratio of water to oil is increasing – on average for every barrel of oil produced no less than three barrels of water are produced," he told the GDN.
"This water contains many undesirable products, suspended or dissolved organic and inorganic substances, heavy metals, greases and some chemical additives used during the production process.
"These must be treated before disposal, managing and dealing with these waters represent a major environmental challenge for all the GCC countries."
However, the veteran added that the water-scarce region can turn the challenge into an opportunity.
"If treated in the required manner and reused appropriately, produced water can help reduce the water stress of GCC countries.
"It can also lead to reduction in pollution, and be a source of income generation such as minerals extraction industry."
He highlighted the low concentrations of salts in Bahrain's natural water, which could be an advantage.
"We are lucky that the salinity of the produced water is not very high like in other GCC countries," he said.
"But we need to look at the other components and employ a technology to remove them.
"Currently, many GCC countries are reusing this water in enhanced oil recovery where they are injected in the oil reservoirs to drive oil out.
"However, the Oil Ministry is investigating the possibility of using the water to construct engineered wetlands."
He added that the suggestion aligned with Bahrain's commitment to be carbon neutral by 2060, as announced by the Crown Prince and Prime Minister in Glasgow on Tuesday.
Speaking at the 26th United Nations Climate Change Conference of the Parties (COP26) His Royal Highness Prince Salman bin Hamad Al Khalifa pledged to lead by example and cut the country's emissions by 30 per cent by 2035.
"A constructed wetland will contribute to the kingdom's efforts by establishing a carbon sink (anything that absorbs more carbon from the atmosphere than it releases) to achieve a balance between the greenhouse gases emitted and those taken out by sinks," added Prof Zubari.
"A study last year by Greece, Crete's Technical University Assistant Professor Alexandros Stefanakis also cited green technology of constructed wetlands as an ideal sustainable wastewater treatment solution in the Middle East where, as the study concluded, the concern remains "problematic at large".
The sessions were moderated by Omani Higher Education Ministry Research and Innovation Sector representative Dr Muhammad Al Rawahi and featured five lecturers from Saudi Arabia, Oman and Bahrain.
raji@gdn.com.bh
Source: https://www.gdnonline.com/Details/992686/Artificial-wetlands-%E2%80%98can-relieve-water-stress%E2%80%99