Apartment values rise as real estate market bounces back
MANAMA: High-end apartment values in Bahrain grew in the first quarter this year, reversing a six-month-long trend and signalling a real estate rebound.
Property consultancy Savills' Market in Minutes report on the kingdom's property sector for Q1-2021 found that capital values grew by a marginal 0.4 per cent over the previous quarter (Q4-2020), whereas low-end apartment values remained stable.
Across the villa segment, capital value declines across mid-end villa projects slowed to minus 2.8pc in Q1-2021 from minus 3.2pc in Q4 2020.
In the high-end villa segment, a marginal price decline of 0.8pc quarter-on-quarter (QoQ) was observed.
Commenting on the findings, Savills Bahrain associate director and head of professional services Hashim Kadhem said developers continue to offer attractive incentives such as low down-payments and flexible payment plans to attract buyers.
Rental values declined by an average 2.4pc QoQ across apartment projects.
This was primarily caused by a price contraction of 2.7pc in the mid-end apartment market.
Across the villa market, rental prices across the low-end segment grew by an average 1.9pc QoQ in Q1-2021; however, the average decline across rental villas were recorded at 1.6pc QoQ.
Over the past quarter, Savills has noted some landlords have become increasingly flexible in their pricing strategies, added Mr Kadhem.
"In rare instances, we have seen price corrections of approximately 20pc since the start of the year."
Capital values across office developments saw a QoQ decrease of 1.8pc, largely due to the low-end segment, which logged a decline of 3.7pc for the same period, the report found.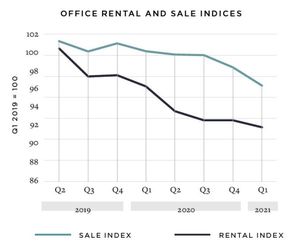 On a yearly comparison, prices across the low-end segment are now 7.2pc lower than the capital values in Q1 2020, notes Savills.
The first quarter of this year saw an average marginal decline in office rents of 0.7pc across all sub-sectors.
"Similar to residential landlords, commercial landlords are being more flexible to retain and attract new tenants. This has included increasing rent free periods, contributing to fitout costs and increasing parking ratios, where possible, to attract traditionally larger occupiers such as clinics and training centres," said Mr Kadhem.
"However, there appears to be a demand for smaller spaces as companies continue to assess their office space requirements, with hybrid working models becoming increasingly popular."
Meanwhile, the Economic Development Board, Bahrain's main investment promotion agency, said last week that despite the challenges posed by Covid-19 pandemic, a revival in the country's property market was evident from the 14pc and 20pc rise in real estate deals in the third and fourth quarter of 2020 respectively, with the total value of real estate transactions reaching $1.9 billion (BD717.4 million) in 2020.
The number, however, is a drop of 11pc year-on-year compared to BD808m in 2019, according to data from Survey and Land Registration Bureau and Real Estate Regulatory Authority.
Source: https://www.gdnonline.com/Details/941074/Apartment-values-rise-as-real-estate-market-bounces-back